About Deluxe Yacht Isabella II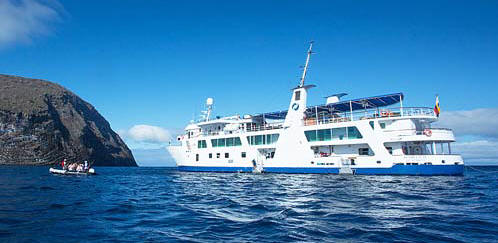 Isabela II is the largest and most deluxe yacht cruising in the Galapagos Islands. In fact she was custom built in the U.S. for the sole purpose of adding style and comfort to the exciting experience of travel in Galapagos.
The Isabela II yacht has 20 outside twin cabins, most fitted with two lower berths, private shower and toilet. Four cabins have double beds either for single or double occupancy. The sleek, well-appointed boat is air-conditioned and carpeted, has large salon/bar area, a spacious dining room and separate reading/games room.
She carries a crew of 27, including two multilingual naturalist guides.
Isabela II is in full compliance with the American Bureau of Shipping's fire codes and with SOLAS. Her length is 166 feet, width 38 feet, tonnage 1,083 travel speed 12 knots

Yacht ISABELA II offers a relaxed atmosphere while enjoying an unforgettable Galapagos expedition, where guests fully experience their sense of discovery and bonding with nature. ISABELA II Cruise offers all aspects of the Galapagos: an intimate contact with wildlife, active volcanoes, a vast Marine Reserve, adventure, comfort and safety.

The classic Yacht ISABELA II offers the most in-depth week itinerary (Tuesday to Tuesday) allowing guests to enjoy all that Galapagos is famous for: from ancient giant tortoises to penguins, from sleek flamingos to bold sharks, from bizarre flightless cormorants to rugged marine iguanas and from whales and dolphins to dramatic island volcanoes and breathtaking scenery, plus the exploration of the Galapagos Marine Reserve (the second largest in the world) on kayaks, the glass bottom boat, swimming or snorkeling.

The expertise of three English-speaking Naturalist Guides matches their contagious enthusiasm, whether discussing geology or bird watching, snorkeling or stargazing, evolution or marine activities. Guests of ISABELA II have the opportunity to explore the Ecuador Galapagos islands in small groups with fellow enthusiasts who share their same passion for nature, curiosity and spirit of observation.

5 days / 4 nights – Central Galapagos – Monday to Friday

The 5-day journey of discovery begins on Santa Cruz Island to see giant tortoises in their native highlands vegetation before heading to the Charles Darwin Research Station. Next, off to the sandy white beach and sea lion harems of Santa Fe Island for our first snorkel, kayak or glass-bottom boat ride. See South Plaza Island's land iguanas, sea lions and sea birds en route to North Seymour Island, then on to the glorious white beach of Santa Cruz' Las Bachas. Next day, head to Bartolome Island, with its iconic views and the white coral sand beach and dramatic lava fields of Sullivan Bay. End at Baltra airport

Monday
Baltra Island Airport & Santa Cruz Island
We arrive at Baltra airport and then we take you to the Itabaca Channel to take a ferry across to Santa Cruz Island. A 30-minute bus ride takes us to a restaurant in the highlands of Santa Cruz Island to enjoy lunch, and then continue to Puerto Ayora. Depending on local weather conditions up in the highlands, we may include a short hike which will be a great introduction to some Galapagos wildlife. Our Expedition Team will advise accordingly.
Note: Please dress with comfortable shoes and clothes, bring a small backpack with any medicine you might be taken, sunblock, insect repellent and anything you need during the excursion as you will go on board Yacht Isabela II and the end of the day.

Puerto Ayora and the Charles Darwin Research Station
After driving down from the highlands, we visit the Charles Darwin Research Station and the giant tortoise pens within an impressive giant prickly-pear cactus forest home to many land birds. These are the headquarters of scientific investigation, conservation and the National Park administration. Late afternoon we stroll along the main street of Puerto Ayora before embarking on Yacht Isabela II. We review the expeditions plan for next day, and enjoy the Captain's welcome cocktail and dinner.

Tuesday
Santa Fe Island
A stunning anchorage provides our jumping-off point for our visit to this sandy white beach with many sea lion harems. Galapagos hawks are often easily observed, perched atop salt bushes. The endemic land iguana, unique to this island, may be spotted during the walk. Snorkelling from our skiffs, kayaking or a ride in our glass-bottom boat rounds off the rewarding experience.
South Plaza
The turquoise waters here contrast brilliantly with the white sand and black lava of the shoreline, while a carpet of scarlet sesuvium succulents serves as groundcover for a grove of luminescent green prickly-pear cactus beyond, populated by Galapagos land iguanas. Keep an eye open for the remarkable beaks of cactus finches. Along the coastline one finds sea lion colonies, while sea birds play with the thermals that form along the cliffs of this small but amazing island.

Wednesday
North Seymour Island
The morning starts with an enjoyable walk along the coast and the interior of this island, a favourite of many visitors, observing numerous bird colonies as well as sea lions and marine iguanas. There are opportunities for snorkelling and coastal exploration with chances of spotting fur seals along the rocky coastline. This uplifted island is also home to a nesting colony of frigatebirds, and provides great views of the surrounding islands due to its central location in the archipelago.
Las Bachas (Santa Cruz Island)
After WWII, US military barges were beached and abandoned here. Locals referred to the beach as the "barges" beach, a name that morphed to "bachas". Today it is an important nesting area for the east Pacific green sea turtle. Located on the north shore of Santa Cruz Island, it is a glorious white beach, with several brackish lagoons only a few steps away from the sea. These lagoons are the feeding grounds of various wading birds, from stilts to flamingos. We can swim and/or snorkel from the beach. In the evening, Thursday's expedition plan briefing and dinner.

Thursday
Bartolome Island
This morning, a Galapagos icon awaits for us: Bartolome Island. A great way to start the day, with a steep climb up a wooden staircase: the view from the top is worth the effort! Following the walk, we take the dinghies for a ride around colossal Pinnacle Rock, followed by time to enjoy the beach and do some snorkelling. Explore the shores and look for Galapagos penguins too. We can also ride in the glass-bottom boat for great views of the underwater world.
Sullivan Bay (Santiago Island)
After lunch, we get on board the pangas to land at Sullivan Bay on the east coast of Santiago, a white coral sand beach great for swimming with a trail over a lava field that flowed here a little over 120 years ago. This is the perfect place to see and feel the volcanic origin of Galapagos while observing its wildlife. Many label this location as an open textbook of geologic wonders.

Friday
Baltra Island Airport
After breakfast, we leave for the airport to take the flight back to the mainland.


7 days / 6 nights – Northern Galapagos – Tuesday to Monday

The 7-day journey of discovery begins at Puerto Baquerizo Moreno, then on to Cerro Colorado's giant tortoise breeding centre and Genovesa Island's sunken caldera. The central islands' Buccaneer Cove and Puerto Egas share their history, wildlife and geology, as well as some well-deserved water time. On Fernandina and Isabela visit Punta Espinoza and their stunning volcanic features, plus evolution's icon: the flightless cormorant. Galapagos land iguanas await at Urbina Bay, along with Punta Vicente Roca where penguin encounters will delight us all. Finally, visit Rabida Island's red beach and a large sea lion colony en route to the land iguanas of Cerro Dragón (Dragon Hill) before ending our journey at Baltra airport

Tuesday
Puerto Baquerizo Moreno (San Cristobal Island)
We arrive by plane at San Cristobal Island and transfer to Yacht Isabela II for cabin assignment, introductory briefing and lunch.
Cerro Colorado Breeding Centre
After lunch, we land back at Puerto Baquerizo Moreno and drive 40 minutes to the island's southern shore. At Cerro Colorado, we visit the breeding centre of the highly-endangered giant tortoises in the midst of a fantastic deciduous forest, home to dozens of bird species and the endemic San Cristobal lava lizard.

Wednesday
Prince Philip's Steps (Tower/Genovesa Island)
Overnight, we navigate northbound to the incredible bird haven on Genovesa Island, crossing the equator on the way. The morning starts with a panga ride along the cliffs of this dramatic island, followed by a dry landing with a steep climb (90 feet) up some stairs to reach a flat plateau. Along our walk, we can observe large colonies of Nazca boobies, red-footed boobies, great frigatebirds and storm petrels. Coastal exploration along the cliffs (depending on weather conditions) will let us see more wildlife, including Galapagos fur seals. We can also enjoy snorkelling and kayaking.
Darwin Bay (Genovesa Island)
In the afternoon, we land at the beach for an easy stroll observing hundreds of birds, mainly frigatebirds, red-footed and Nazca boobies, gulls, herons, finches and mockingbirds. There's an optional walk over sharp lava and uneven terrain for dramatic views, or else we can return to the beach to enjoy snorkelling at this beautiful natural harbour.

Thursday
Buccaneer Cove (James/Santiago Island)
After breakfast, we enjoy a coastal exploration along the impressive cliffs of Buccaneer's Cove, learning about the area's distant and recent history. The cove is home to a large number of marine birds, sea lions, and inter-tidal organisms. Enjoy fantastic natural formations such as the "The Bishop" and an impressive natural cave. This is a great site for snorkelling too or ride in our glass-bottom boat.
Puerto Egas (Santiago Island)
This is a wonderful opportunity to see land and marine birds amidst a landscape of tuff-stone layers and lava flows. At low tide, marine iguanas graze upon the algae beds and we can also observe a colony of fur seals. Back at the beach where we land, there's very good snorkelling and swimming here.

Friday
Punta Espinoza (Fernandina Island)
In the morning, we visit the youngest island of the archipelago, Fernandina. Punta Espinoza has an amazing combination of barrenness and abundant wildlife. Highlights include hawks, penguins, flightless cormorants, and some of the densest colonies of marine iguanas. Snorkeling here usually bring unexpected marine encounters.
Tagus Cove (Isabela Island)
Across the narrow Bolivar Channel, we anchor at this cove on the northwest of Isabela. It provided a favourite anchorage for pirates and whalers over the centuries. An uphill hike takes guests to the rim of Darwin Crater, filled with salt water and to a dramatic viewpoint. After our walk, we take a panga ride to spot local wildlife, including some Galapagos penguins with the possibility of swimming, kayaking or snorkelling.

Saturday
Urbina Bay (Isabela Island)
After breakfast we disembark at Urbina Bay, the result of an uplifting of the ocean floor in 1954. Here you can find corals, shells and many other calcareous organisms exposed above water. This area is also home to large and very colourful Galapagos land iguanas, and occasionally to giant tortoises. Along the shoreline, after the hike, guests may encounter flightless cormorants and see penguins while snorkelling.
Punta Vicente Roca (Isabela Island)
Since there is no landing site at this location, the coastal exploration is by skiff, while naturalists explain the dramatic geology of the area, with remains of lava flows and tuff stone layers. There is abundant wildlife and, depending on the conditions of the ocean, we'll be able to snorkel along the cliffs, hopefully in the company of green sea turtles and penguins. Expedition plan for Sunday and dinner.

Sunday
Rabida Island (Jervis Island)
In the morning, we disembark at Rabida Island's red-coloured beach. A stroll allows us to observe a large colony of sea lions, marine iguanas, mockingbirds, yellow warblers and several species of Darwin's finches. This is a great place to snorkel from the beach. We can also enjoy a panga ride, kayaking or ride in our glass-bottom boat.
Cerro Dragón (Dragon Hill) (Santa Cruz Island)
The north shore of Santa Cruz hosts Cerro Dragón (Dragon Hill). Our walk includes circling a brackish water lagoon frequented by lagoon birds, including ducks, stilts and some few flamingos. Further inland, the trail brings us to the nesting area of land iguanas, and then it offers a beautiful view of the bay and the western islands of the archipelago

Monday
Baltra Island
Our journey ends at Baltra Island where we transfer to the airport to take the flight back to the mainland.


5 days / 4 nights – Southern Galapagos – Friday to Tuesday

We start on Santa Cruz Island, viewing tortoises in the lush highlands before venturing down to world-famous Charles Darwin Research Station. Sail south to Floreana, disembarking at historic Post Office Bay and then Punta Cormorant. Head west to Punta Suarez on Española Island, whose rugged coastline harbours marine iguanas, sea lions, marine birds, and even albatross (at certain times of year). Gardner Bay provides beach-time and water activities, then on to San Cristobal's Punta Pitt and Cerro Brujo, following the footsteps of young Charles Darwin on his 1835 visit. End at Puerto Baquerizo Moreno.

Friday
Baltra Island Airport & Santa Cruz Island
We arrive at Baltra airport and then we take you to the Itabaca Channel to take a ferry across to Santa Cruz Island. A 30-minute bus ride takes us to a restaurant in the highlands of Santa Cruz Island to enjoy lunch, and then continue to Puerto Ayora. Depending on local weather conditions up in the highlands, we may include a short hike which will be a great introduction to some Galapagos wildlife. Our Expedition Team will advise accordingly.

Note: Please dress with comfortable shoes and clothes, bring a small backpack with any medicine you might be taking, sunblock, insect repellent and anything you need during the excursion as you will go on board Yacht Isabela II and the end of the day.

Puerto Ayora and the Charles Darwin Research Station After driving down from the highlands, we visit the Charles Darwin Research Station and the giant tortoise pens within an impressive giant prickly-pear cactus forest home to many land birds. These are the headquarters of scientific investigation, conservation and the National Park administration. Late afternoon we stroll along the main street of Puerto Ayora before embarking on Yacht Isabela II. We review the expeditions plan for next day, and enjoy the Captain's welcome cocktail and dinner.

Saturday
Post Office Bay & Baroness Cove (Floreana Island) After breakfast, we land at Post Office Bay to visit the historic barrel that has served as an informal post office in the archipelago for over two centuries. Snorkelling off the beach.
Punta Cormorant (Floreana Island) Our visit to Punta Cormorant takes in an olivine-crystal beach for an easy walk by a brackish water lagoon where bird species like stilts and flamingos may be observed. On the other side of the island, we come to a white-sand beach where sea turtles come out at night to nest. Snorkeling will happen at lovely "Champion Islet" site, or ride in the panga or glass-bottom boat.

Sunday
Punta Suarez (Española Island) Our morning outing at Punta Suarez provides an exciting walk on lava/boulder terrain to visit its unique sea bird colonies, including the waved albatrosses (April - January), boobies, swallow-tail gulls, mockingbirds, and the famous "blowhole". Also, look for red-green-black marine iguanas. Back on board for lunch.
Gardner Bay (Española Island) In the afternoon, we set down at this beautiful, white coral beach for a short walk to observe Galapagos sea lions, finches, maybe a hawk or just enjoy the beach. There is great snorkelling in this area, or else there's time to kayak, or enjoy the glass-bottom boat. The turquoise colour of the waters at this location will be a favourite one to photograph.

Monday
Punta Pitt (San Cristobal Island) In the morning, we land on the eastern tip of the island. The trail that ascends from the beach provides spectacular views of the shoreline and is the only site in the Galapagos where the three species of boobies can be found together, joined by the two frigatebird species plus a colony of bachelor sea lions. After the walk, if conditions are favourable, there is a chance to swim, kayak or snorkel from the beach or hop onto the panga for a ride along the coast.
Cerro Brujo (San Cristobal Island) In the afternoon, following lunch on board, we set out on a panga ride along the shores of tuff-stone layers which take us to Cerro Brujo's expansive, white coraline beach, great for walking, with rewarding birdwatching including good views of both sea and shore birds. Also, keep your eyes open for Galapagos sea lions. These are the same shores that Charles Darwin walked upon, back in September 1835. After the walk, there is a chance to swim and snorkel.

Tuesday
Puerto Baquerizo Moreno (San Cristóbal- Chatham Island) After breakfast, we depart to the pier and airport for our flight back to the mainland.



CRUISE INCLUSIONS
-Accommodation
-All meals
-Island sightseeing
-Naturalist guides and lecture services in English/Spanish only
-Snorkelling gear
-Internet / Wi-Fi *
-Luggage handling
-Medical care on board (not including the cost of medication)
-Taxes
-Transfers in the islands
-Shared transfers from main hotels in Quito (Casa Gangotena, Hilton Colon, Sheraton, Marriott, Dann Carlton) and in Guayaquil (Hilton Colon, Oro Verde, Hampton Inn, Sheraton) to airport for flights to/from Galapagos are included in these rates. To coordinate these transfers, we must have guests' hotel contact information.


Not Included

Wet suits available for rent, NET rate US$ 30 + VAT per guest for 7-day expeditions
Air transportation to / from Galapagos and airport taxes (subject to change without previous notice)
Galapagos National Park entrance fee (US$ 100 subject to change without previous notice)**
Migration Control Card (US$ 20 subject to change without previous notice)**
Fuel surcharge
Alcoholic **and non alcoholic beverages
Gratuities
Gifts and additional items
Travel insurance



Technical specifications

•Construction: 1979
•Reconstruction: Pensacola, Florida, 1988
•Refurbishment: Panama, March 2000
•Category: Deluxe
•Gross Tonnage: 1.025 tons.
•Type of Vessel: Motor Yacht
•Capacity: 40 guests
•Length: 53.72 meters (166 feet)
•Beam: 11.58 meters (38 feet)
•Speed: 10 knots
•Electricity: 110 Volts 60 Hz.
•Engines: 2 GM Detroit Diesel 900 BHP each
•Navigation Equipment: Gyrocompass, Automatic Pilot, radar, and GPS
•Safety Certificates: SOLAS 74 - ISM
•Fire Detector: Automatic with control from the bridge.
•Life Jackets: In each cabin
•Lifeboats: 2 units semi enclosed
•Landing Craft: 3 Zodiacs + glass bottom boat
•Owner: ETICA / Metropolitan Touring
•Decks: 3 (Sun deck, Cabin deck, Main deck)
•Crew: 24
•Naturalist: 3
•Medical Officer: Permanently on board


Other services

•Bar - Lounge, Boutique
•Gift Shop
•Radio, telephone, E-mail, and Fax communications
•PA System
•Snorkeling Equipment
•Multimedia natural history lectures
•Stargazing Program
•Digital camera and underwater housing
•Glass bottom boat
•Jacuzzi
•Reading Room & Natural History Library
•Air conditioned throughout
•Safety boxes
•Hair dryers
•Wet suits for snorkeling in cooler waters
•Sea Kayaks
For questions or further information about these programs

Have your Travel Agent call
Tara Tours at
1-800-327-0080 or
e-mail us
tara@taratours.com