Suriname, the smallest independent country in South America, invites travelers to a land whose ethnic variety is hard to match. Its people make up a cultural melting pot of Europeans (Dutch and Portuguese), Chinese, Indonesians, Amerindians (descendants of the original indigenous tribes) and Maroons, (descendants of slaves who escaped to the tropical forests). In Suriname, natural resources come on a grand scale: forests blanket 90% of the land; 4 of the 8 species of the giant turtles swim in yearly to nest and lay eggs; the bird-count list numbers 674 species; one of its nature reserves covers 4 million acres—the largest in the world.
Although culturally part of the Caribbean, Suriname, formerly known as Dutch Guiana, geographically belongs to South America. However, while the rest of South America is overwhelmingly Roman Catholic, thanks to heavy immigration from India in the late 19th century, about 27% of Suriname's 480,000 inhabitants today follow Hinduism, making it the leading religion. At the same time, in the capital, a mosque, synagogue and wooden cathedral sit comfortably beside one another, while both food and music are a thrilling fusion of Indo-Caribbean traditions. Dutch is the official language, and some 20 other languages are spoken, including dialects of the Maroon tribes and the Amerindians. But the lingua franca is a creole Sranantongo.
Join us to explore Suriname !

Discovering Paramaribo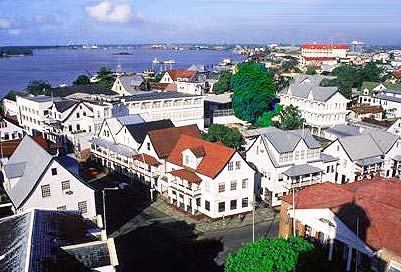 5 days/4 nights
Daily departures
Transfers on arrival and departure.

Half day City tour of Paramaribo, Capital of Suriname.

Half day Commewijne Plantation.

Assistance of our local representatives.

English speaking tour guides.

4 nights hotel accommodations with room taxes.

Daily buffet breakfast.



| | | | | |
| --- | --- | --- | --- | --- |
| 2018 Rates per person | Double | Triple | Quad | Single |
| Krasnopolski or Eco Resort Inn-riverside(4*) | US$637 | 588 | 520 | 1240 |
| Courtyard by Marriot -deluxe queen room (4*) | 880 | 790 | 727 | 1465 |
Not included
International airfare, airport arrival and departure tax, insurance, tips, gifts or other items of a personal nature.
Aproximate cost airfare:
From Miami US$600-800; New York $700-900; Los Angeles $800-1,000

EXPLORING SURINAME
8 days / 7 nights
Locally hosted
Daily departures
DAY 1 USA-SURINAME (Paramaribo)
Arrive in Paramaribo, Capital of Suriname and you will be transferred to hotel Krasnapolsky.
DAY 2 PARAMARIBO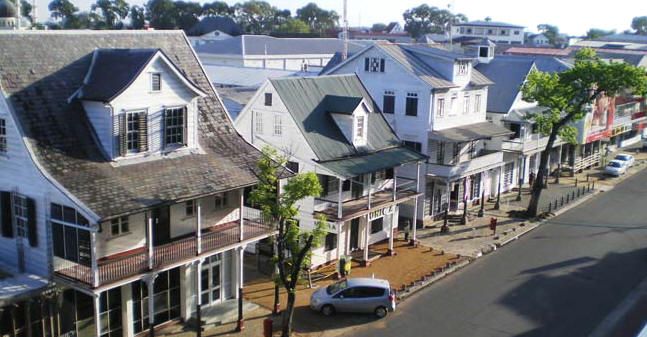 Morning sightseeing tour of Paramaribo. The city center of Paramaribo is placed on the Unesco World Heritage List of historical monuments since 2002 due to its unique architecture. Paramaribo is a city consisting of various population groups, cultures and religions. The bustling city life fills the streets lined with historical buildings built in the former colonial style, alternated with modern hotels and office buildings. We start our tour with a magnificent view of Paramaribo from the famous Wijdenbosch Bridge over the Suriname River. We continue to the old inner city of Paramaribo for a visit to the ancient building complex in Paramaribo, Fort Zeelandia. You receive an extensive guided tour from our guide within the fort. We continue the trip by foot and visit the Independence Square surrounded by historical buildings. After this walk, we drive along the most prominent historical buildings of Paramaribo with their unique architecture. We finish our tour at Waterkant along the Suriname River, the favorite meeting place in Paramaribo for many Surinamese. Overnight hotel Krasnapolsky. (B)

DAY 3 PARAMARIBO-KABALEBO
Transfer to the airport. Depart about 11:00 am from local airport Zorg & Hoop in Paramaribo to the airstrip at Kabalebo, approximately 1 hour by airplane, west of Paramaribo. The resort is situated next to the airstrip. After check-in and meet and greet with the personnel at the lodge, lunch is served. After lunch, you will have an educative walk through the forest on one of the trails:
- The Beech craft trail.
- The trail to the BWKW rapids.
- A trail from the feet of the Misty Mountain to the Sand Creek.
These trails are in combination with a boat trip in a dugout canoe. In the afternoon we will drift back to the lodge, while drifting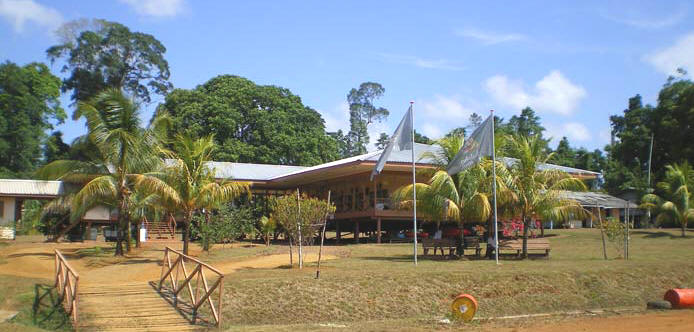 back you can enjoy the wonderful nature surrounding you. In the evening diner will be served, and you will be able to enjoy one of the delicious Surinamese courses that the cook/chef has prepared for you. After dinner you can enjoy the scenery on the spacious veranda or relax in your hammock. (B,L,D)

DAY 4 KABALEBO
After breakfast, you depart for an adventurous walk through the rainforest and a climb to the misty mountain, which takes about 5 hours during which you may spot wild life. It's a guided tour and the main goal is to reach the top of the misty mountain with a breathtaking view of the pristine rainforest. On your way back we will stop at the Charlie Falls, where you can relax and enjoy your lunch. After returning to the main lodge you can cool off at the swimming pool and enjoy the scenery surrounding it. After diner the manager will provide you with information about your tour for the next day. (B,L,D)

DAY 5 KABALEBO
Soon after breakfast we will start our tour by drifting with the dugout canoe to the trail that leads to the Moi Moi falls. When you have reached the trail that leads to the Moi Moi falls, you will start with an educational walk through the rainforest with a guide. The knowledge you've already gained about the tropical rain forest becomes even more interesting during this guided tour. Lunch will be at the falls, and in the afternoon we will take the boat back to the Main lodge. After the tour most of our guests retreat to the swimming pool to relax until diner is ready. (B,L,D)

DAY 6 KABALEBO
After your breakfast you quietly drift down the stream in a corial up the Kilo 3 creek, where you will go on a great forest walk to the Kilo 3 rapid. Here you will lunch and relax in the creek. In the afternoon you go back to the Main Lodge. After the tour you can lie in the hammock near your room or relax at the pier until dinner is served. (B,L,D)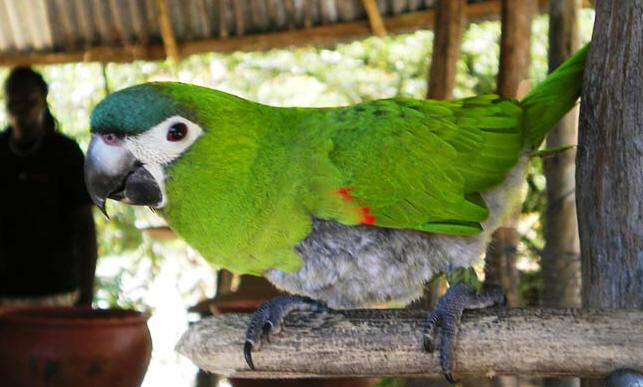 DAY 7 KABALEBO-PARAMARIBO
You will start your last day with a breakfast after which you will go kayaking. We will make our way upstream to the Krong Soela by dugout canoe. When you arrived at Krong Soela you will step in a kayak and paddle your way back to the main lodge. While kayaking you can enjoy the nature and the wild life around you. After lunch you will fly back to Paramaribo and overnight at hotel Krasnapolsky. (B,L)

DAY 8 SURINAME-USA
Transfer to the airport for flight back to USA. (B)