ECUADOR AMAZON RAIN FOREST EXTENSIONS
LA SELVA JUNGLE LODGE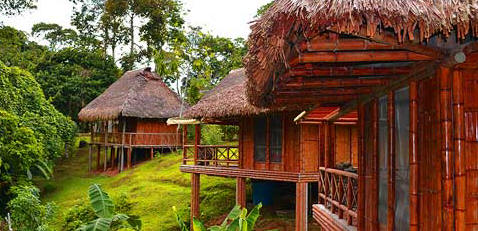 It has sixteen double bed cabins built in the traditional native style of the region and each with their own toilet and shower perch on a bill overlooking Lake Garzacocha (also, called Heron Lake). The bar and restaurant hug the shore ready for magical sunsets, macaws, toucans, parrots and a permanent view of infinite green tranquility.
The lodge culinary backgrounds is French and it has applied these skills to local ingredients and dishes. Fresh tropical fruit juices accompany each meal: maracuya, babaco, taxo, naranjilla each one more exotic than the last. (Special mealtimes available for birdwatchers).
The lodge has a large staff in order to make small groups and offer many options. From leisurely to grueling, you can see the spectacular sights of the jungle at your own pace. After dinner each night, guides will discuss and explain the options available so you decide what tour to take next day.
LA SELVA LODGE
5 Days/4 Nights Itinerary Tara No. 48B
Departs Monday, Wednesday, Friday & Saturday
Day 1 - Assistance from La Selva staff at the Quito airport for TAME flight to Coca. Flight time 40 minutes. In Coca you will be met at the airport and transferred to the Napo River and by motorized canoe.
A two hour ride down river follows. From LA SELVA dock a short picturesque walk leads you to a stream for a trip by paddle canoe to Heron Lake. (Garzacocha). Welcome cocktail.
Half nile from the hotel, Mandicocha offers a complete different ecosystem from Garzacocha and its the home of the many strange and rare birds such as the prehistoric Hoatzin, the Zig-zag Heron and all 5 species of Kingfishers. (L,D).
Day 2/3 - Days of full activities or just relax, swim or fish. Get up early, today you'll have a good chance to see monkeys or wild boars. Paddle down a primaveral stream, climb up to the high forest or visit neighbors villages. (B,L,D).
Day 4 - Start early in the morning for an all day excursion up to the Piranha river arriving at the Lake by lunch time. Time to observe the wildlife you'll find there. Farewell dinner ((B,L,D).
Day 5 - Early morning departure for Quito.
LA SELVA LODGE 2015 RATES PER PERSON
| | | | |
| --- | --- | --- | --- |
| All meals | Twin | Triple | Single |
| 4 Day (Traditional hut) | US$ 1285 | 1222 | 1591 |
| 5 Day (Traditional hut) | 1555 | 1483 | 1690 |
| Extra night | 299 | 277 | 268 |
Rates include fuel surcharges.
Plus airfare from Quito US$250.00 per person and entrance to Yasuni National Park US$25.00
For non operational days (Tuesday & Thursday -you can still go and pay and additional US$60 more person (minimun 2)

Kapawi Ecolodge and Reserve

Kapawi Ecolodge and Reserve is located in the most remote area of the

Ecuadorian Amazon Basin. From Quito you will fly to Wayensa from where wooden canoes will take you to Kapawi in a comfortable 1 hour and half ride. The lodge accommodates up to 40 passengers and was built in accordance to the Achuar concept of Architecture (not a single nail was used). Environmentally friendly methods such as solar energy and trash recycling are also being utilized.
"The Kapawi lodge provides an array of activities characterized by their flexibility in order for you to set the pace at which you discover this whole new world.
As part of a small group (not larger than ten, leaded by a naturalist and an Achuar guide), you can fully customize your itineraries, which may include visits to the Achuar communities, hikes in the rain forest, canoeing, kayaking, fishing, camping, cayman watching and birdwatching, in accordance to the group's chosen degree of difficulty.
These activities range from short hikes on weel-defined trails and visits to the Achuar communities, and leisurely canoe and kaykas rides to more strenuos and demanding hikes that may take a day or even overnight camping after trekking through poorly defined trails or flooded areas. You will find however that every step in contact with the forest shall be worth it."
Nevertheless, most itineraries will include visits to the Achuar communities, hikes in the rain forest, canoeing in rivers and lakes as well as close observation of the flora and fauna. This is a true experience of the Amazon Rain Forest.
The tour package to Kapawi includes all your meals, daily excursions with a naturalist English speaking guide, accommodations, transportaton Quito-Kapawi-Quito (Quito-Shell by car and air Shell-Kapawi)
Not included: Achuar community fee of $35.00 (per passenger) and 2.50 per day, soft beverages, alcoholic drinks, Government taxes.
KAPAWI LODGE 2015 RATES PER PERSON
| | | | | |
| --- | --- | --- | --- | --- |
| All meals | Twin | Triple | Single | Children* |
PLUS LOCAL TRANSPORTATION: US$498.00 net (includes land transportation Quito-Shell by car, then by air Shell-Kapawi and 12% tax). Rates subject to change.
*Children rates: Under 12 years Sharing cabin with 2 adults.

More Jungle Lodges: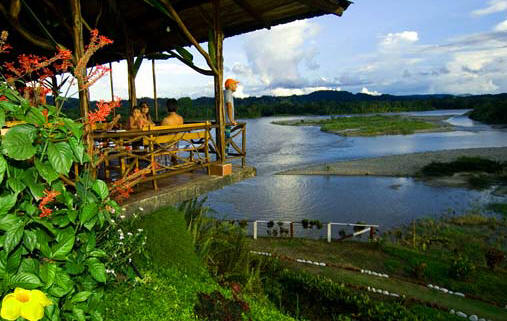 It is a quiet jungle lodge located on the shores of the majestic Napo river (one of the major tributaries of the Amazon River) and about 4 hours away from Quito and the Andes mountains. Perched comfortably above the river bank and the qechua indian village of AHUANO. La Casa del Suizo has an expectacular view of the Amazon rain forest.
3 days/2 night package include: round trip transportation from Quito to the Lodge with a stop at the thermal springs of Papallacta for a swim and lunch, all meals while at the lodge, all excursions with naturalist speaking guides, all ground and boat transportation.
2015 RATE PER PERSON:
3 days Double occ. US$691, Triple occ. $628; Single $844; Children under 12* $484
4 days Double occ. US$826, Triple occ. $763; Single $1060; Children under 12* $556
* Children under 3 years old US$151