About the Galapagos Islands
A visit to the Galapagos Islands in the Pacific Ocean, 600 miles due west of Ecuador is a seafaring safari to a world where nature reigns supreme, You are about to visit a unique natural area, fascinating to the tourist and of absorbing interest to the naturalist The Galapagos Islands are made up to 13 main islands and 48 smaller islands with a population of 5,000 scattered among 6 different locations. There are 700 species of insects, endemic land animals are confined to only 7 rodents and 2 bats. Birds are more plentiful with 80 species and subspecies. Species of Antarctic origin like seals and penguins mingle side by side with tropical animals. The Galapagos fauna may be described as primitive or prehistoric due to the lack of large land mammals and the dominance of reptiles. Today, the Galapagos remains a living laboratory of evolution where animals and birds have no fear of man. You can swim with the sea lions, and get close up photos of the tortoises, birds and all the animals without the aid of a zoom lense.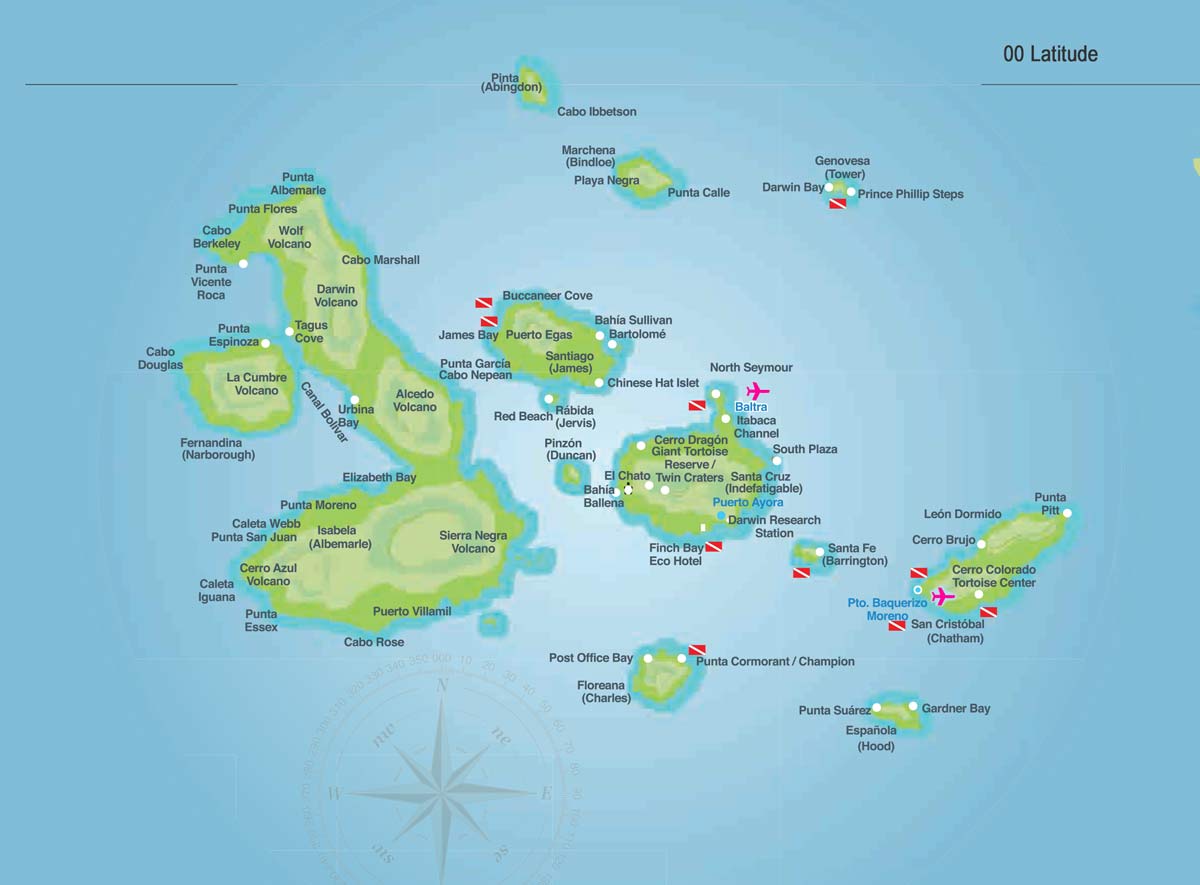 Come join us to explore Galapagos!
Where in the world can you find Antarctic fur seals living right on the Equator? Birds that swim but no longer fly? Sunflowers growing to treetop heights? "Where"..... is in the Galapagos Islands, 600 miles off the coast of Ecuador. Isolation helps to account for the magic of Galapagos...and for its continued existence as a natural museum of flora and fauna found nowhere else on earth. Covering an area of about 3,000 sq. miles, these scores of islets and 13 major islands are officially part of the Ecuadorian National Parks system.
BALTRA

Welcome to the islands. If you're flying in - this is where you'll land. Baltra Island, or Isla Baltra, is a small island of the Galápagos Islands. Also known as South Seymour. The island is very arid and vegetation consists of salt bushes, prickly pear cactus and palo santo trees.

During World War II Baltra was established as a United States Army Air Force base. Crews stationed at Baltra patrolled the eastern Pacific for enemy submarines and provided protection for the Panama Canal. After the war the facilities were given to the government of Ecuador. Today the island continues as an official Ecuadorian military base.

Until 1986, Seymour Airport was the only airport serving the Galápagos. Now there are two airports which receive flights from the continent, the other located on San Cristóbal Island. Private planes flying to the islands must fly to Baltra as it is the only airport with overnight facilities for planes.

On arriving into Baltra, all visitors are transported by bus to one of two docks. The first dock is located in a small bay where the boats cruising the Galápagos await passengers. The second is a ferry dock which connects Baltra to the island of Santa Cruz via the Itabaca Channel.

Constructions for a larger, modernized airport began in 2011, and as of early 2013 it has started operation and the old buildings are being dismantled. Baltra airport has been promoted as "the first ecological airport worldwide" due to its reduced energy consumption for lighting and ventilation, rainwater recovery, waste recycling etc.
BARRINGTON (Santa Fe)
Themselves, land iguanas and lava lizards keep silent company. The noble "palo santo" and dramatic stands of "opuntia" cactus also attracts attention.
BARTOLOME
Jutting out of Sullivan Bay, Pinnacle Rock watches as you pass. An old crater makes interesting hiking and there is a lovely beach for swimming of snorkel and to see the rare Galapagos Penguins.
FERNANDINA (Punta Espinoza)
This is one of the most pristine islands with no introduce species to date. It's volcano La Cumbre, is still very active and recent lava flows are evident. Along the shoreline, you will see hundreds of marine iguanas bask in the sun, gulls, Flightless cormorants and Galapagos hawks.
FLOREANA (Charles)
Here is Post Office Bay...where 18th century whalers opened an unofficial post office in a barrel. It's been in service ever since and the cost of postage has not gone up a single cent. Here is where the flamingos nest on towers of mud, but not before showing off their exquisite pink color circling the lagoon and landing.
HOOD (Espanola)
Nearly all of the species found on this island are visible at Punta Suarez. Tame mocking birds, uncommon red and gree-trimmed marine iguanas both blue-footed and masked boobies, and albatross colonies..
-Gardner Bay, is on the northeastern tip of Hood Island, facing the Gardner islets, we'll find a large white stretch of white sand beach. The site is favored by the sea turtles for nesting, and sea lions for snoozing. Also good snorkeling.
ISABELA
Tagus Cove is a natural protected harbor where centuries ago whalers safely spent the night and left their ship's signatures painted on the rocks. Inland on this large island are 5 huge volcanoes,mountains, and Darwin's salt lake crater. (Penguins, flightless cormorants, marine iguanas).
-Urbina Bay (Located at Central West coast of Isabela Island at the foothills of Volcano Alcedo and Darwin). You will see colony of large and colorful land Iguanas, Darwin's finches, Galapagos Hawks, Doves and very intersting vegetation. Also, colonies of flightless Cormorants, Blue footed boobies and Penguins. Good possibilities of seeing giant Tortoise in the wild.
-Punta Moreno (Bay (Located at Central-south Western coast of Isabela Island) Spectacular views of Volcanoes Alcedo, Sierra Negra and Cerro Azul. Impressive black and immense lava flows from eruptions 200 years ago. Desolate, extremely pristine landscape. You will see Darwin's finches, doves, mockingbirds, lagoon birds, flamingos, the rare gallinules, frigates, pelicans and other sea birds.
JAMES (Santiago)
On the western side in James Bay a colony of fur seals is at home on the black lava rocks, thanks to the cool Humboldt Current. At Flamingo Lake you can depend upon seeing a flock of feeding flamingos.
NORTH SEYMOUR:
Life proliferates everywhere you look.
Young and old sea lions waddle along the shore. The frigates display red ouches and mate. Colonies of blue-footed boobies and swallow tail gulls occupy the island.
PLAZA
A tiny island packed to its steep-cliff shoreline with fascinating life. Sea lions, land iguanas, tropical birds against a background of vegetation that changes color with the seasons.
SANTA CRUZ (Indefatigable)
Home of the Darwin Research Station...internationally staffed with scientists doing biological research and conservation projects. Tortoises are at home here at the Station and at a protected highlands reserve. This is were Puerto Ayora is located and where most of the yachts and vessels are stationed.
TOWER (Genovesa)
Galapagos most dramatic complete bird island. Frigate birds , boobies, noddy terns, lava gulls, doves and thousands of storm petrels.
GALAPAGOS WEATHER:
Galapagos Islands are sunny year round the warmest months are from December to June. January to March can be hot and humid but also mostly green at this time. The months from July to November are cooler. The average year-round temperature is 24C. 76F.
Air temperature Average

Sea Temperature Average

Rainfall

By Month
Fahrenheit
Celsius
Fahrenheit
Celsius
Inches
mm
January
71.1 - 86.0
22-30
76.1
24.5
2.4
60.9
February
75.2 - 86.0
24-30
77.0
25.0
4.6
116.8
March
75.2 - 87.8
24-31
77.0
25.0
4.0
101.6
April
75.2 - 87.8
24-31
77.0
25.0
2.9
73.7
May
71.6 - 82.4
22-28
76.1
24.5
0.6
15.2
June
69.8 - 78.8
21-26
73.4
23.0
0.2
5.1
July
68.0 - 78.8
20-26
71.6
22.0
0.3
7.6
August
66.2 - 78.8
19-26
70.7
21.5
0.2
5.1
September
66.2 - 78.8
19-26
71.6
22.0
0.2
5.1
October
68.0 - 78.8
20-26
72.5
22.5
0.2
5.1
November
69.8 - 78.8
21-26
73.4
23.0
0.2
5.1
December

71.6 - 80.6

22-27

74.3

23.5

0.3

7.6