Deposits & Cancellations
Peru....more programs....!!
Exploring the Amazon Rain Forest !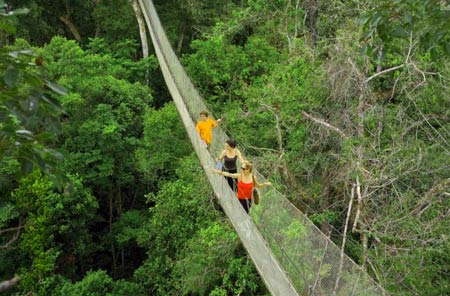 8 day / 7 night Program
DAY 01 MIAMI-LIMA
Arrive and overnight at hotel Costa Sol by Lima airport.
DAY 02 LIMA-IQUITOS-AMAZON RAIN FOREST –
Depart Lima for Iquitos. Flight takes about one hour and thirty minutes.
Reception at the airport and transfer to the Explorama dock. Fifty mile journey down the Amazon River to Yanamono Stream where Explorama Lodge is located. Afternoon hike along the "Lake Trail" through lowland rainforest which is seasonally flooded. This trail is traversed by open boat during high water months!
Lunch, Dinner Overnight Explorama Lodge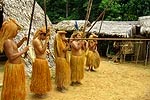 DAY 03 AMAZON RAIN FOREST Explorama Lodge
Morning hike along the "Bushmaster Trail" where scientific studies by the Missouri Botanical Gardens have found one of the world's highest biodiversity of trees per square hectare. Your guide will point out many examples of native plants used as remedies by local people. Afternoon canoe trip along the Amazon in search of either of the two species of freshwater dolphin found in the river.
Breakfast, Lunch, Dinner Overnight Explorama Lodge

DAY 04 AMAZON RAIN FOREST Explornapo Lodge
Explorama Lodge - ExplorNapo Lodge
After breakfast, a boat ride down the Amazon and up the Napo River to the ExplorNapo Reserve and ExplorNapo Lodge. Afternoon hike through primary, terra firme rainforest. Evening excursion by open boat along the Sucusari Stream in search of caiman and to enjoy the night sounds and stars of the Southern sky.
Breakfast, Lunch, Dinner Overnight ExplorNapo Lodge

DAY 05 AMAZON RAIN FOREST ExplorNapo Lodge-Canopy Walkway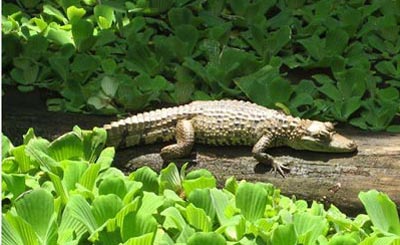 Morning hike to the Canopy Walkway, a suspended bridge spanning 500 meters (one-third of a mile), connected by tree platforms and reaching a height of over 35 meters (115 feet) above the forest floor. Here there is time to observe a part of the rainforest rarely seen by man but accessible without any type of climbing skill or equipment. Afternoon excursion to a black water oxbow lake formed when water from the Napo River became separated from the main flow of the river. These lakes are often covered with giant Victoria Regia water lilies and can offer a view of the elusive Hoatzin bird.
Breakfast, Lunch, Dinner Overnight ExplorNapo Lodge

DAY 06 AMAZON RAIN FOREST ExplorNapo Lodge - Ceiba Tops
Morning boating excursion along one of the Napo tributaries spotting for sloth, birding and fishing for piranha. Also a chance to visit some of the local river people called "ribereños" whose houses are seen along the river. Afternoon boat trip back to Ceiba Tops where private rooms with electricity and air conditioning begin your return to "civilization". On the return trip you will pass the town of Francisco de Orellana, where a statue is erected to the intrepid explorer who in 1542 at the mouth of the Napo River became the first European to see the Amazon River.
Breakfast, Lunch, Dinner Overnight Ceiba Tops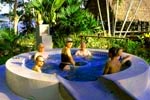 DAY 07 AMAZON RAIN FOREST Ceiba TopsMorning visit to the neighboring Yagua Indian Community, an explanation of their native culture, blow gun demonstration and a chance to purchase or trade for their crafts. Afternoon hike in the beautiful primary rainforest reserve surrounding Ceiba Tops where many huge trees are festooned in epiphytes.
Breakfast, Lunch, Dinner Overnight Ceiba Tops

For information about theExplorama lodges click here
DAY 08 AMAZON-IQUITOS-USA
Your choice of open boat ride or hike for the morning or a chance to relax in a hammock and enjoy the sounds of the surrounding rainforest. Transfer to Iquitos by boat and bus to the airport for your departure to Lima.
Arrive in Lima and connect with your flight back to USA or continue to Cuzco and Machu Picchu.
Breakfast

2016 LAND TOUR COST PER PERSON: SHARE DOUBLE US$1870 ; Triple US$1799
INCLUDING: . 6 nights jungle lodge accommodations with all meals, excursions, visit to Indian tribes and English speaking naturalist guides; 1 night in Lima at hotel Costa Sol by Lima airport. All transfers by car & by boat from/to Iquitos; room taxes and service charges. Assistance of our local representatives 24/7 by phone.
NOT INCLUDED:
INTERNATIONAL AIRFARE or Local airfare to Iquitos. Insurance.• Tips to tour guide or bus driver. •Any other service not mentioned in itinerary. • USA departure tax/security/fuel surcharges of $188 (changes daily...please call) and Lima and Iquitos $5.00 each and upon leaving Peru $28.00. International airfare.

The Salcantay Trek to Machu Picchu
Mountain Lodges of Peru offers "Adventure at its finest": the opportunity to experience the essence of adventure within the realm of creature comforts. … it is a unique opportunity to experience ancient history in the Land of the Incas, contemporary manifestations of deep-founded culture, the most interesting and exotic variety of flora and fauna, culinary surprises, the determination of local people to progress

In MLP's Machu Picchu Lodge-Lodge experience, trekkers spend one night each at three Trekker's Lodges located at strategic points along the route: Huayraccmachay, Collpapampa and Lucmabamba. Although MLP's Trekker's Lodge are smaller in size (only 6 guest rooms per lodge), each one of them offers the same amenities as the base lodge.

10 days/8 nights
Day 01 U.S.A-LIMA:
Depart USA. Overnight flight to Lima, Peru. (International air not included)
Day 02 LIMA-CUZCO :
Arrive in Lima and after going thru customs and immigration continue to the domestic flight counters to check-in for flight to Cuzco. Upon arrival you will be met and transfer to hotel Sonesta Cuzco. Balance of day to rest and get used to the high altitude.
DAY 03 CUSCO to SALKANTAY LODGE & ADVENTURE RESORT at SORAYPAMPA (3,800 m/12,500 ft).

After an early breakfast, guests will be picked up starting at 7:00 am at their hotel in Cusco by an MLP guide and vehicle in direction to the Salkantay Lodge & Adventure Resort (SLAR) in Soraypampa. En route we will take a short break to visit the Inca ruins of Tarawasi near the town of Limatambo (approx. 1.5 hrs from Cusco). After leaving Limatambo, we pass through the mountain village of Mollepata where we stop for a short coffee break before ascending a winding mountain road to a place called Marcoccasa (30 minutes from Mollepata by vehicle).
Here, we will begin our trek to Soraypampa, on an old route called the "Camino Real" (Royal Path). This is a good opportunity for guests to acclimate and enjoy a mild & beautiful 4 hour trek on their first day. (Hiking level: moderate). (Optional: guests who do not wish to trek may be transported to the lodge in the vehicle).
The SLAR takes its name from the majestic peak at the head of the valley – the "Salkantay", the 2nd most sacred peak in Inca mythology and, at 20,600 ft (6,270 m), the highest in the region.
After a warm welcome by our friendly staff, the guests will be shown to their rooms and have time to wash-up. The first afternoon is spent at leisure to adjust to the altitude. An evening briefing by the fireplace is followed by aperitifs and dinner.
Note.- Lunch on DAY 1 is a box lunch
DAY 04: SORAYPAMPA.
This day is spent at leisure for rest or activities, depending upon guests' level of acclimatization. The most popular activity at Soraypampa is a half-day hike (3-4 hours. Hiking level: moderate to challenging) to a glacial lake where the more adventurous might take a very short swim! This activity is excellent for acclimatization and a first immersion into high-mountain trekking! In the afternoon, guests may choose to trade the glacial swim for a relaxing soak in our outdoor jacuzzi. In the evening, the guide will brief the trekking party on gear and the itinerary for the next four days. Breakfast, lunch and dinner are taken at the

DAY 05: SORAYPAMPA to WAYRA LODGE at HUAYRACCMACHAY (3,850m/12,600 ft).
This is the big day: the start of the four-day trek to Machu Picchu. After an early start we will hike up the Rio Blanco valley, circling Humantay Peak across from the Salkantay. The highest point on the trek is a pass at 4,600 m (15,000 ft). At the pass we stop to take in views of snow-capped peaks of the Vilcabamba Range in every direction, the south face of Salkantay towering above us. We will keep our eyes out for Andean condors, often visible in this area. From the pass we continue our descent toward the Wayra Lodge ("Wayra": wind; 'the place where the wind lives') our destination for the evening. A hot lunch is taken en route. Dinner and overnight at the Lodge. (Hiking time: 4-6 hours. Total excursion time for day: 5-7 hours. Hiking level: challenging with a 15,000 feet high pass.
DAY 06: HUAYRACCMACHAY to COLPA LODGE at COLLPAPAMPA (2,800m/9,200 ft).
Following the long first day we enjoy a leisurely breakfast at Wayra Lodge. We then begin our trek by hiking downhill above the Salkantay River, through increasingly verdant scenery. Our arrival at the next lodge encounters a "Pachamanca"-style lunch (subject to availability; traditional underground stone cooking). The Colpa Lodge is located in an open promontory at the confluence of three rivers. The outdoor hot tub in this lodge has prominent views of lush green mountains and a small, far-away, local town. Dinner and overnight at the lodge. (Hiking time: 3-4 hours. Hiking level: easy to moderate).

DAY 07: COLLPAPAMPA to LUCMA LODGE at LUCMABAMBA (2,100m/6,900 ft).
After an early breakfast we head down the Santa Teresa River Valley, through more populated rural areas with coffee plantations (said to be one of the best organic coffees in the world!), bananas, 'granadillas', and orchards. We stop along the river for a hot picnic lunch. After another hour of trekking a private vehicle arrives to take us to the beginning of the "Llactapata Inca Trail" (30-minute drive). From the head of the trail it is a short climb (30 min.) to the Lucma Lodge, set in an avocado orchard. We arrive in time to allow for exploration of the small village of Lucmabamba and possible meeting with members of the local community. (Hiking time: 5-6 hours. Total excursion time for day: 6-8 hours. Hiking level: moderate to challenging, basically due to distance, not terrain).
Day 08: LUCMABAMBA to AGUAS CALIENTES (1,900 m/6,200 ft).
After an early start and a hearty breakfast, we tackle the last day of our trek. We head uphill for 2-3 hours towards Llactapata pass (2,700 m/8,900ft), where we come upon a distant but quite special view of Machu Picchu from the southwest, a view few tourists ever glimpse; an added value are the Llactapata Ruins, which have recently been restored.
Lunch is provided at the observatory, in view of Machu Picchu. We then begin our final descent to the Aobamba River through lush bamboo forests and more orchards and coffee plantations (2-3 hour descent). Aguas Calientes and Machu Picchu are a short (30 minutes), scenic train ride away. (Total hiking time: 4-6 hours. Hiking level: moderate to challenging).
We then arrive in Aguas Calientes to check-in to our hotel for the night.
Day 09: Machu Picchu (2,450m/8,000 ft) to Cusco
We wake up early to have breakfast at the hotel and then make our way to the bus station for the ride up to Machu Picchu (30 min). A complete guided tour of Machu Picchu will be provided (2 hours). Guests will have about 4 additional hours to explore the site on their own (there is a lot to do and see). Afterwards, we will return by bus to Aguas Calientes for lunch and to go to the train station for the afternoon departure. The train takes us to Ollantaytambo (1½ hrs), where a private vehicle awaits to take us to Cusco (1 ½ hrs). Upon arrival in Cusco (approximately 7-8pm) Transfer to hotel Sonesta Cuzco.
Day 10 Cuzco-Lima-USA
Transfer to the airport for flight to Lima and connections. (B)

| | |
| --- | --- |
| *Rates per person -share double (includes local airfare) | Double |
| Mar.1-31 & Nov.1-Dec.14, 2016 | US$4,480 |
| Apr.1-Oct.31 & Dec.15-31, 2016 | 4,993 |
International airfare is not included. (available upon request). Jan & Feb Mountain Lodges are closed.
Single : Pays 50% supplement - RATES SUBJECT TO CHANGE AT ANY TIME.
SAMPLE INTERNATIONAL AIRFARES:
From Miami $600-900, Atlanta $700-990, Los Angeles & San Francisco $900-1200; New York $800-1100; Seattle $900-1200....Call your travel agent or Tara Tours at 1-800-327-0080. Just remember -no airfare is good- until ticketed....these are only sample air fares.
DEPOSITS:
US$600.00 at the time of booking.
FINAL PAYMENT:
60 days before departure.

AQUA DELUXE AMAZON RIVER CRUISE


Visiting The mighty Amazon Region & The Pacaya Samiria National Park
River Cruise for 7 nights


9 days/8 nights

Day 01 Friday Miami-Lima
Depart USA for Lima, Peru. Arrive and transfer to hotel located by Lima airport Costa Sol.

Day 02 Saturday : Lima-Iquitos-Amazon River
Transfer to the airport for flight to Iquitos. Arrive in Iquitos and transfer to your luxury 12-suite expedition vessel, M/V Aqua, your home for the next four or eight days. Check into your luxurious, oversized suite, and as you settle in, your ship
will start its journey toward the Yarapa River, an estuary of the Amazon. You are embarking on a spectacular

adventure, to a place visited by only a few of even the most experienced world travelers. Your days in this hidden part of the world will be a dramatic study in contrasts. Imagine seeing rare howler monkeys and pink dolphins and harpy eagles (not to mention exotic six-foot-wide water lily pads) by day, and then returning to exquisite gourmet meals, paired with some of the finest wines from all of South America. In the evening, you may go on another expedition, or you may simply want to sit out on the top deck, sip a Pisco sour, and count the stars. The choices are yours. (B,D)
More info about the M/N Aqua Amazonas
Day 03 Sunday : Yanayacu/Yarapa River
Wake up on the Yanayacu River, throw open your curtains, and you may well see a great snowy egret, white against the green of the jungle. Keep your binoculars with you on your early morning bird watching excursion, to catch sight of russet and blue tiger herons, vivid masked crimson tanagers, graceful storks, blue and yellow macaws, and black-headed parrots . . . just some of the 250 species of birds that you will spot as you glide along the river. In the afternoon, you will board the ship's small skiffs and float to Corriente Lake, where you will have the oncein- a-lifetime chance to fish for freshwater red-bellied, black, white, and purple piranha. The fishing is good year round, but is spectacular in the dry season. Amazonia is home to more than 2,700 species of fish . . . more than can be found in all of the Atlantic Ocean. Later that day, we will visit the small village of San Juan del Amazonas, where some 80 descendants of the famed Cocama Indians still live in thatched stilt houses, carrying on their tribe's traditions and earning their living by fishing. (B,L,D)

Day 04 Monday: Yanayacu and Pucate Rivers, Pacaya Samiria Reserve
Today passengers have two choices:
Option 1: Full-Day Excursion - Journey from Yanayacu Creek all the way to remote Chingana, a small creek where giant river otter usually nest. These handsome animals were killed in great numbers for their pelts, and are now threatened with extinction. On this excursion, you will also see howler and capuchin monkeys, the squirrel sized monkeys called tamarins, pink and gray river dolphins, and a vast variety of birds.
Option 2: Guided Jungle Walk/Siesta/Monkey and Dolphin Expedition –
This morning your Park Ranger will tell you all about sustainable resource management projects in Amazonia. After lunch and a siesta, your naturalist guide will take you on a Monkey and Dolphin Expedition. You are likely to see all four of the most common species of freshwater dolphins—including the unusual pink ones—found in the Amazon. Later, keep your eyes directed toward the jungle canopy, where you can spot at least 10 of the 13 species of monkeys resident in the National Park, including tamarins and howler, woolly, and pigmy marmoset monkeys.. (B,L,D)

Day 05 Tuesday : Birthplace of the Amazon/Nauta Caño/Ucayali River and Puerto Miguel
Today, the M/V Aqua skirts the edges of the vast Pacaya Samiria Reserve, a flooded forest covering five million acres at the headwaters of the Amazon basin. Rise early and be on your skiffs at 5:30 a.m. to view one of the great spectacles of the Southern Hemisphere: the sun rising over the birthplace of the Amazon River.
Here—where the union of two major tributaries, the Ucayali and the Marañon, form the world's greatest waterway—nature is at its most dramatic. Your dawn excursion will be accompanied by abundant bird song, as you glide in small boats past river banks populated by large-billed terns, laughing falcons, gray tanagers, sandpipers, five kinds of parakeets, the exotic short-tailed parrot, and dozens of other birds.
A post-breakfast excursion to Nauta Caño takes you into a wilderness populated by squirrel monkeys, saddleback and black mantle tamarins, iguanas, tagu lizards, and an abundance of tropical birds. (B,L,D)

Day 06 Wednesday : Tapiche River/El Sapote Creek
Today begins with an early morning journey via skiff along the remote Tapiche River, to search for the magnificent, 3 1/2-feet-long harpy eagles. Chances are good that you will also see umbrella birds, tanagers, stern looking chachalacas, puff birds, and more on this expedition into the deep wilderness. After breakfast, it's time for piranha fishing on the Tapiche (where they are bigger than elsewhere). (B,L,D)

Day 07 Thusday : Pacaya Samiria Reserve
Today is devoted to a full-day excursion into the wildlife-rich Pacaya Samiria Reserve, so vast that it is the size of some Central American countries. Traveling into the reserve in small boats, you will enter the black water lakes collectively known as the Mirrored Forest, where you will view the almost magical reflection of the towering trees in the glistening water. In addition to the birds, caimans, monkeys, and dolphins of the Amazon jungle, you will also see a rich array of flowers in a riot of colors. In the wet season, as the water level rises, it is possible to travel deeper into the reserve, exploring its farthest reaches. In the dry season, you can spot turtles, and the massive jabiru—pink storks standing five feet tall, with nine-foot wingspans. After dinner, those who choose to go out on the skiffs will have a chance to experience the nightlife along the river—an intimidating array of yellow-crowned brush-tailed bats, fishing bats, snakes, frogs, and tarantulas. (B,L,D)

Day 08 Friday : Ucayali/Amazon River/Sapo Playa/ "Jurassic Park"
The day begins with a cruise down the Ucayali and Amazon Rivers. We make a stop to visit the small, banana growing village of Sapo Playa, where you will need items—t-shirts or school supplies—to barter for purchases. These friendly people are eager hosts. You will have a delightful time with them and will get some great photographs. Later that day and early evening, we will visit "Jurassic Park," a prehistoric-looking swamp where the giant, sixfoot in diameter lily pads grow. Here, during the wet season, you will also have the chance to visit lovely Chontilla Lake, rich with monkeys, birds, and dolphins. An optional night expedition lets you view the massive water lilies again, and gives you a good view of bats and night birds. Then it's back to the ship, which sails toward the Tahuayo River.(B,L,D)

Day 09 Saturday : Tahuayo River/Iquitos Tour/LIMA
Wake up for an early morning excursion on the Tahuayo River, to capture your last sunrise photos. The morning light is a perfect time to snap pictures of the rare pink dolphins, terns, and parrots. You will also have another chance to see the famous, giant, six-foot-wide Victoria Regia lily pads. Then, transfer to the airport for flight to Lima and connection to Miami. (B ,L) MIDNIGHT FLIGHT TO MIAMI AND CONNECTIONS.
Optional excursion to Cuzco, Nazca, Colca, Kuelap, Caral and many other destinations in Peru are available upon request.

THE TOUR PACKAGE INCLUDES:
One night hotel accommodations in Lima at Hotel Costa del Sol with Buffet Breakfast. English speaking naturalist tour guides. 7 night cruise aboard the M/V AQUA (Suite accommodations). All shore and boat excursions. Transfers to/from piers, airports, hotels and boats. Meals as mentioned in itinerary B=breakfast; L=lunch; D=dinner and wine (while at the river cruise). Local flights Lima-Iquitos-Lima.

DOES NOT INCLUDE:
Airfare from USA to Lima, Peru · Insurance (click here for more information) · Tips to tour guide or bus drivers. · Any other service not mentioned in itinerary · Airport departure taxes in Lima and Cuzco $5.00 each and upon departing Peru $28.00 and USA departure tax/fuel surcharges/security of US$88 to 140...(it changes all the time...we will advise you at the time of booking)

Land Tour Rates-Per person (includes local airfare Lima-Iquitos-Lima)

Rates valid until Dec.15, 2016
Double US$8,999
Single Supplement 4,480

INTERNATIONAL airfare not included: Approximate cost airfare from Miami US$550-750 plus taxes. If you need international airfare, please call your travel agent or Tara Tours at 1-800-327-0080. We can provide airfares from more than 100 USA cities. Please e-mail us at: tara@taratours.com
Prices are based on Suites. For Master Suite please add US$350 Per person double.

SAMPLE AIRFARE FROM MIAMI: US$550-750 plus taxes

ADD-ONS VIA AMERICAN or LAN AIRLINES:

Add $300 from LAX, SFO, DEN, LAS and Zone 5; Add $160 from ATL, ORL, SJU, TPA & ZONE 1; Add $200 from DFW, HOU & ZONE 2; Add $280 from BDL, BOS, BWI, CHI, EWR, NYC, WAS, ZONE 3; Add $340 from ZONE 4. Add $350 from JAC, PDX, SEA.(See below Zone Chart). RATES SUBJECT TO CHANGE AT ANY TIME.

Zone 1: FL; Zone 2: AR, LA, MS, NM, OK, TX; Zone 3: CT, GA, MA, MD, NC, NH, NY, PA, RI, SC, VA, VT; Zone 4: AL, AZ, CO, IA, IL, IN, KS, KY, MI, MN, MO, NE, OH, SD, TN, WI; Zone 5: CA, ID, NV, UT; Zone 6: OR, WA

IMPORTANT:
We recommend getting a Yellow fever vaccination and taking Malaria pills for this trip.
DEPOSITS:
US$500.00 per person at the time of booking. Final payment is due 65 days before departure.
CANCELLATIONS:
Please see section... Cancellations
For questions or further information about these programs
Have your Travel Agent call Tara Tours at
1-800-327-0080 or e-mail us.