Ecuador Optionals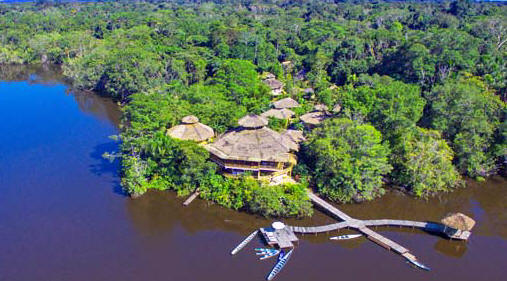 It has sixteen double bed cabins built in the traditional native style of the region and each with their own toilet and shower perch on a bill overlooking Lake Garzacocha (also, called Heron Lake). The bar and restaurant hug the shore ready for magical sunsets, macaws, toucans, parrots and a permanent view of infinite green tranquility.
The lodge culinary backgrounds is French and it has applied these skills to local ingredients and dishes. Fresh tropical fruit juices accompany each meal: maracuya, babaco, taxo, naranjilla each one more exotic than the last. (Special mealtimes available for birdwatchers).
The lodge has a large staff in order to make small groups and offer many options. From leisurely to grueling, you can see the spectacular sights of the jungle at your own pace. After dinner each night, guides will discuss and explain the options available so you decide what tour to take next day.
LA SELVA LODGE
4 Days/3 Nights Itinerary
DAY 1 QUITO-AMAZON RAINFOREST –LA SELVA
Shuttle transfer to the airport for flight to Coca. Assistance from La Selva staff at the Quito airport for TAME flight to Coca. Flight time 40 minutes. In Coca you will be met at the airport and transferred to the Napo River and by motorized canoe. A two hour ride down river follows. From LA SELVA dock a short picturesque walk leads you to a stream for a trip by paddle canoe to Heron Lake. (Garzacocha). Welcome cocktail. Half mile from the hotel, Mandicocha offers a complete different ecosystem from Garzacocha and its the home of the many strange and rare birds such as the prehistoric Hoatzin, the Zig-zag Heron and all 5 species of Kingfishers. Briefing on the next day activities. MEALS: D
DAY 2 LA SELVA LODGE
6:00 am - Wake Up Call
6:30 am - Breakfast
7:00 am - Observation Tower/Tucaneta or Mandi Forest After a 20 minute walk the observation tower comes into sight. This amazing construction will allow you to climb 120 ft above the forest. Your Naturalist and Native guides will help you spot the colorful birds of the Amazon, maybe even certain primates. On the way back from the tower there is the option of taking the Tucaneta Trail where your Native Guide can show you some of the medicinal plants still in use today and your Naturalist Guide will provide you with interesting info on the ecology and natural history of the Amazon. There is also the option of visiting the beautiful lagoon of Mandi Cocha. A hike of about 1 hour takes you to the lagoon where an Igapo Forest is present, meaning that the forest is temporarily flooded by black water. Different species of birds and even giant otters can be seen here.
1:00 PM - Lunch 4:30 pm - Charapa Trail This trail goes on for about an hour beginning at the lodge and ending by the edge of the lagoon. It is a great loop where different mammals, monkeys and birds can been seen that come closer to the lagoon at this time looking for food. It is also perfect for witnessing an Amazonian sunset from the water in the canoe.
6:40 pm - Night Canoe Ride With the help of a spot light your guides will take you around the lagoon via canoe looking for nighttime wildlife. This is also a great opportunity for star gazing!
7:30 pm - Dinner
MEALS: B,L,D
DAY 3 LA SELVA LODGE
6:00 am - Wake Up Call
6:30 am - Breakfast
7:00 - Parrot Clay Lick and Mandi Wasi Today you will make your way back to the Napo River and take a motorized canoe ride to the clay licks, one of the most fascinating displays of the wild world. Hundreds of parrots and parakeets gather here to eat the mineral rich soil, an important part of their diet. Binoculars are essential to really capture the moment. After the clay licks we will take you to experience our Cultural Activity. An Amazonian Kichua woman will welcome you at their community center to share their life of the Kichua's in the Amazon. This is special because it is part of the Amazon you do not find on the maps and provides the special and unique opportunity to really get to learn more about the people of the Amazon.
1:00 pm - Lunch 4:30 pm- Garzacocha Lagoon and Ceiba Trail This is one of the most beautiful lagoons in the Ecuadorian Amazon. Here there are many chances to see monkeys and birds and sometimes families of squirrel monkeys join capuchin monkeys looking for food. The tremendous calls of the Howler monkeys can be heard in the afternoon and the smallest monkey in the world, the Pigmy Marmoset can be seen here too. Plenty of birds like the Hoatzin, toucans or macaws can also be seen flying overhead. 6:30 pm- Nocturnal Walk On a night walk we give you the chance to enjoy the creatures and sounds of the Amazon Jungle at night. Sometimes we can see amazing things during this activity. Make sure you bring a flashlight for this fantastic experience.
7:15 pm - Departure Briefing Our manager will provide you all the necessary information about your departure procedure for the next morning.
7:30 pm - Dinner
MEALS: B,L,D
DAY 4 COCA-QUITO
6:00 am - Wake Up Call
6:30 am - Breakfast
7:00 am - Departure for Coca In accordance to your briefing the night before, you will have an early wake up call, breakfast and departure from the lodge.
The lodge staff will assist you with your checked luggage and the motorized canoe ride will head upstream back to Coca, where our representatives will take you to the airport to help you with your checked luggage and boarding passes.
MEALS: B,
(Itineraries are subject to change to weather conditions and safety of passangers)
LA SELVA LODGE 2018 RATES PER PERSON
| | | | |
| --- | --- | --- | --- |
| All meals | Twin | Triple | Single |
| 4 Day (Superior Suites) | US$ 1299 | 1285 | 1708 |
| 5 Day (Superior Suites) | 1599 | 1583 | 2095 |
| Extra night | 330 | 277 | 430 |
Plus airfare from Quito US$275.00 per person and entrance to Yasuni National Park US$25.00
For non operational days (SUNDAYS-you can still go and pay and additional US$100 more person (minimun 2) . Children under 12 years old 30% discount (sharing room with 2 adults)


Achuar Lodge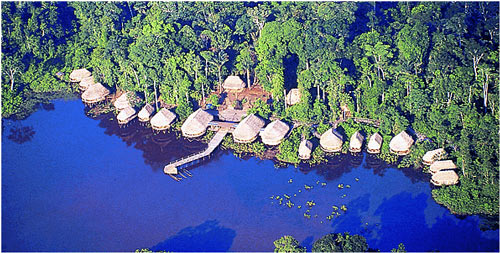 Kapawi Ecolodge (Achuar Lodge) is located in the most remote area of the Ecuadorian Amazon Basin. From Quito you will fly to Wayensa from where wooden canoes will take you to Kapawi in a comfortable 1 hour and half ride. The lodge accommodates up to 40 passengers and was built in accordance to the Achuar concept of Architecture (not a single nail was used). Environmentally friendly methods such as solar energy and trash recycling are also being utilized.
"The Kapawi lodge provides an array of activities characterized by their flexibility in order for you to set the pace at which you discover this whole new world.
As part of a small group (not larger than ten, leaded by a naturalist and an Achuar guide), you can fully customize your itineraries, which may include visits to the Achuar communities, hikes in the rain forest, canoeing, kayaking, fishing, camping, cayman watching and birdwatching, in accordance to the group's chosen degree of difficulty.
These activities range from short hikes on weel-defined trails and visits to the Achuar communities, and leisurely canoe and kaykas rides to more strenuos and demanding hikes that may take a day or even overnight camping after trekking through poorly defined trails or flooded areas. You will find however that every step in contact with the forest shall be worth it."
Nevertheless, most itineraries will include visits to the Achuar communities, hikes in the rain forest, canoeing in rivers and lakes as well as close observation of the flora and fauna. This is a true experience of the Amazon Rain Forest.
The tour package to Kapawi includes all your meals, daily excursions with a naturalist English speaking guide, accommodations, transportaton Quito-Kapawi-Quito (Quito-Shell by car and air Shell-Kapawi)
Not included: Achuar community fee of $35.00 (per passenger) and 2.50 per day, soft beverages, alcoholic drinks, Government taxes.
KAPAWI (ACHUAR LODGE) 2018 RATES PER PERSON
| | | | | |
| --- | --- | --- | --- | --- |
| All meals | Twin | Triple | Single | Children* |
| Fri. to Mon (4 Days) | US$1530 | 1380 | 1900 | 790 |
| Mon. to Fri. (5 Days) | 1550 | 1428 | 2190 | 997 |
PLUS LOCAL TRANSPORTATION: US$498.00 net (includes land transportation Quito-Shell by car, then by air Shell-Kapawi and 12% tax). Rates subject to change.
*Children rates: Under 12 years Sharing cabin with 2 adults.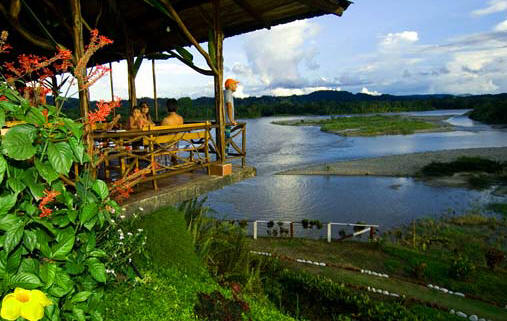 La Casa del Suizo is a tranquil Amazonian refuge located on the shore of Ecuador's majestic Napo River and a stone's throw away from the eastern slopes of the Andes Mountains. Perched comfortably above the riverbank and the small Quichua Indian village of Ahuano, La Casa del Suizo overlooks vast expanses of the surrounding tropical rainforest environment.

Each of its modern rooms provides full electricity, hot water and ceiling fans to make your stay more comfortable, and an exquisite view which may be peacefully absorbed from the privacy of one's own terrace. With a magnificent panorama of the Napo, Guests may enjoy its swimming pool, outdoor dining area and pool bar, which offer an array of delicious tropical drinks. The hotel's dining rooms offer a wide variety of both Ecuadorian and international dishes, and buffets cater to vegetarians.

Each morning guests may trek, paddle and swing through the lush, primary rainforest which surrounds the Lodge. The native guides posses vast knowledge of the diverse local fauna and flora, as well as the medicinal uses of many plants. Don't miss out on this amazing Amazon adventure!
The package includes:
Round trip transportation from Quito to the Lodge with a stop at the thermal springs of Papallacta for a swim and lunch, all meals while at the lodge, all excursions with naturalist speaking guides, all ground and boat transportation.
2018 RATE PER PERSON:
3 day/2 night package Double occ. US$844, Triple occ. $826; Single $970; Children under 12* $599
4 day/3 night package: Double occ. US$961, Triple occ. $943; Single $1051; Children under 12* $628
Sample itinerary: 4 days/3 nights

DAY 1
The trip to La Casa del Suizo will depart from Quito, Ecuador's capital, at 8:00am in private transportation.
The first leg of our journey brings us to Papallacta, a small mountain village famous for its natural hot springs. The group will arrive here between 10:00 and 10:30am, and take some time to visit these springs for a soothing swim in their thermal waters before lunch at the Hotel Papallacta. Shortly after noon, we will continue our journey along a scenic stretch of road towards the Lodge. Overnight

DAY 2
After breakfast the group will board a dugout canoe, and navigate 20 minutes down the waters of the scenic Napo River. The destination is Cosano where during an approximately two hour walk through primary rainforest visitors will have the opportunity to see actual hunting traps which were traditionally used by the local natives in the past. The guides will demonstrate how they work and explain which type of animals was caught in each one. And of course, at all times we will be on the lookout for tropical birds, and point out important aspects of the surrounding vegetation.
Just across the river from La Casa del Suizo is Amazoonico Rescue Center, a place for wounded and displaced tropical rainforest animals. Here it is possible to see coatis, tapirs, and several species of monkey, snakes, and a variety of birds, many of which wander around freely. Lunch Casa del suizo
Later, the group will continue on to the village of Ahuano, where we may learn about several aspects of traditional Quichua culture. A local host will show us how to make chicha, a typical beverage (which of course all may taste), and demonstrate the spiritual cleaning rituals still practiced today throughout the surrounding community. Finally, all may participate in a blowgun target-shooting contest – but don't expect to beat the natives!

DAY 3
Today -you will walk through primary and secondary forest trails, along which it is possible to observe distinct species of birds and insects as well as a great variety of trees and medicinal plants. The guides will explain how such plants are used not only in medicine, but also in construction and other important local activities. Along the trails guests may enjoy several opportunities for adventure, such as hanging bridges, and vines for swinging from tree to tree.
After the walk you may choose to eat lunch in the jungle, and later live the incredible experience of building and navigating a raft! On a small river island your guide will show you how to tie balsa logs together, so those who wish can float down the Napo for about an hour back to La Casa del Suizo.
Later will go to Mariposario (butterfly house) will have the opportunity to see variety butterfly and their metamorphosis

DAY 4
After breakfast the group will depart for the trip up the mountains and back to the city. At Baeza the bus will stop at a lookout to stretch your legs and enjoy a lunch in a restaurant at the town before continuing on to Quito.

Beaches of Mompiche, Salinas, Punta Centinela
ROYAL DECAMERON MOMPICHE - ESMERALDAS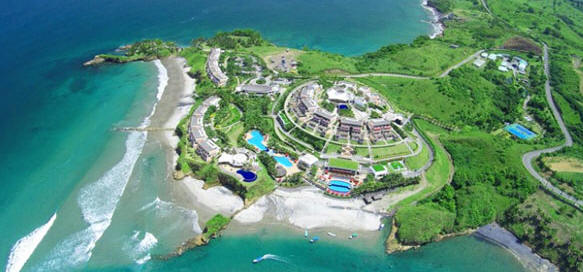 The hotel is located 170 km away (107 miles) by road from Coronel Carlos Concha Torres Airport, Ecuador - south side of a large bay. With unparalleled natural beauty, surrounded by tropical rainforests and hundreds of kilometers of beaches, and a privileged climate with a year-round temperature of 28°C, this destination is an excellent option for practicing different water sports.
This Hotel has a modern tropical design that blends in with the area's natural surroundings, 282 rooms, 3 specialized restaurants and 1 buffet, 6 bars, a disco, 5 pools and a convention center for 600 people.
Including:
Local flight Quito-Esmeraldas-Quito
Bus transfer Esmeraldas-Decameron-Esmeraldas airport
Breakfast, lunch & buffet dinners
A la carte dinners
Snacks
Unlimited domestic alcoholic and non alcoholic beverages
Daily activities program
Non-motorized water sports kayaks & canoes
Introductory diving clinics in the pool
Gym - Beach towels and chairs
Beach club located on Portete island only 10 minutes away, with transportation included
Tennis court
Soccer and beach volleyball
4 days/3 nights program
Daily departures from Quito
| | | | | |
| --- | --- | --- | --- | --- |
| Rates per person | Double | Triple | Single | Child |
| Apr.05 to Jul.02 & Aug.17-Dec.24, 2018 | US$628 | 599 | 799 | 370 |
| Extra nights | 85 | 82 | 130 | 45 |
| Jan.3-Apr.04 & Jul.03 to Aug.16, 2018 | 727 | 699 | 925 | 421 |
| Extra nights | 99 | 93 | 139 | 47 |
For ocean view rooms please add US$14 per person per night. (Single US$28)
Children rate apply when child is from 2 to 12 years old and shares room with 2 adults. All rates are subject to change at any time.
Please call your Travel Agent or Tara Tours 1-800-327-0080.
BARCELO COLON MIRAMAR - SALINAS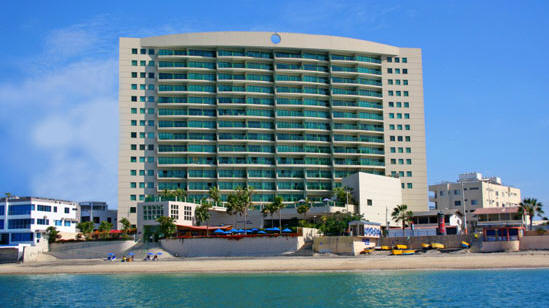 It is a 5 star Hotel and located right on the beach in Salinas Ecuador , 90 miles from Guayaquil city and the airport.
This hotel is one of the top holiday hotels in South America, boasting first class services and facilities. Its variety of event rooms also make it a popular spot for groups, conventions and conferences.
It is an ideal location for families, fishing enthusiasts, water sports and relaxing, first rate spa treatments.
Barceló All Inclusive Program
Including:
Buffet-style breakfast, lunch and dinner
A la carte evening meals are also available (Reservation required)
Lunches and snacks are served at the buffet restaurant, or at the poolside snack bar (hamburgers, hot dogs, chicken breasts, salads and other assorted dishes)
Local beverages with meals including soft drinks, fruit juices and local beers
Drinks in bars:
Local alcoholic or non-alcoholic beverages
Entertainment and sports.
Day and nighttime entertainment programs.
Transfer from Guayaquil to Salinas at 10am & 3.30pm. Return Salinas-Guayaquil at 12.30 noon
Taxes of 12% IVA and 10% services.
4 days/3 nights program
Daily departures from Guayaquil
| | | | | |
| --- | --- | --- | --- | --- |
| Rates per person | Double | Triple | Single | Child |
| Jan.05 to Apr.16, 2018 | US$499 | 475 | 880 | 199 |
| Apr.17 to Dec.23, 2018 | 460 | 430 | 790 | 178 |
Children rate apply when child is from 2 to 12 years old and shares room with 2 adults. All rates are subject to change at any time. Please call your Travel Agent or Tara Tours 1-800-327-0080.