ABOUT YACHT LA PINTA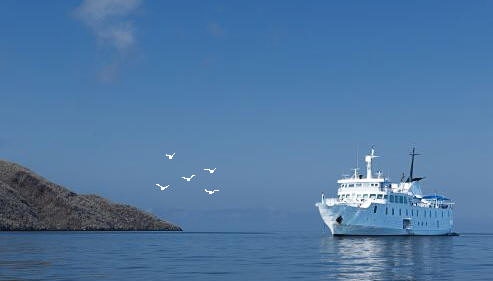 Yacht La Pinta offers a relaxed yet lavish expedition atmosphere, with plush outside cabins; the highest standards of service; international cuisine plus celebrated Ecuadorian dishes, and all the amenities that make the Galapagos Expedition a trip of a lifetime.

Accommodations

La Pinta's ample staterooms provide Galapagos explorers with unparalleled comfort, catering to guests with personalized attention and innovative services.

24 cabins are located mid-ship, in the Upper Deck, with double beds (32¡¨ x 79¡¨ inches), which can be converted to one Queen bed (64¡¨ x 79¡¨ inches). Six cabins are connected, for the convenience of families traveling together, and there are also 4 triple cabins of approximately 22 square meters (236 square feet).



All cabins are outside, fresh, well-lit through panoramic windows viewing unto the Pacific Ocean, and also with reading lights and other light fixtures at night.

Cabins have a well-appointed desk with adequate drawer space, and several electric outlets to allow guests to charge their photo and video equipment, as well as other appliances and personal devices such as iPods, portable DVD players and laptops. In the cabins, guests will be able to hear all announcements related to the expedition and other activities. There is also an additional audio music channel.

Bathrooms are very functional, with shower and all necessary accessories; all amenities are biodegradable and recyclable. Hair dryer and plenty of plush towels are provided.

The crew

Multilingual Naturalist Guides, Licensed by the Galapagos National Park, lead explorers through the wonders of the Galapagos National Park. Their schooling, years of experience and passion for nature and conservation help guests understand the pace and tone of wilderness.

Naturalists are the leaders of expeditions; their expertise matches their contagious enthusiasm, whether discussing geology or bird watching, snorkeling or stargazing, evolution or sports.


Additional information
La Pinta itinerary will include the Galapagos' main highlights on its Friday to Friday expeditions. Final itinerary is subject to approval of the Galapagos National Park.

Includes
Accommodation
All meals
Island sightseeing
Naturalists and lecture services
Snorkeling gear and transfers

Doesn't include
Air transportation to/from Galapagos (Quito-Galapagos-Quito approximately US$550-650)
Galapagos National Park admission fee (US $100 subject to change without notice)
Bar
Gifts and items of personal nature


Important facts
Please read the Itinerary as a guide only. Our route and program varies according to National Park policies and regulations, weather conditions, seasonal changes , safety reasons and the wildlife we encounter

• Dry landing: guests step from the dinghy onto rocks or a dock.
• Wet landing: as the dinghy edges onto a sandy beach, guests step into knee-deep water and wade ashore.

Expedition information
While you don't need to be an athlete to explore the Galapagos, you should be in good physical shape. Getting in and out of rafts for shore landings takes some effort. Also, keep in mind the islands' irregular volcanic terrain, as this may include some challenging outings and walks.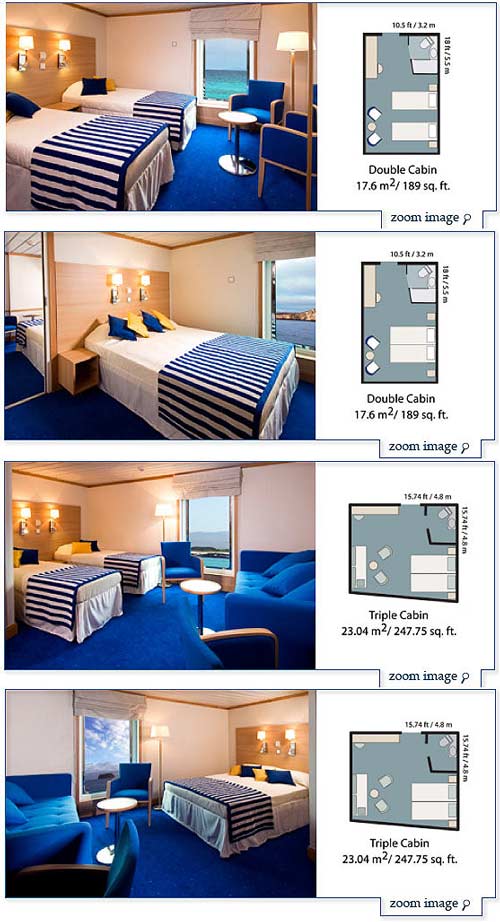 Galapagos is not a trip where nightlife shines out. Instead, wildlife shines out. Therefore, we suggest you leave expensive jewelry at home and anything that may create an emotional hardship if lost, or anything that reminds you of home too much.

Travel protection/insurance is highly recommended.


Travel facts
Luggage
No more than 20 Kilos (44 pounds) of luggage (one suitcase) may be checked on flights to or from the Galapagos Islands.
Additional luggage may be stored at your hotel. These restrictions do not include small carry-on flight bags or camera cases.

Cruise attire
For travel in the Galapagos, clothing ranges from informal to very informal. Essentials include sneakers, shorts, long- and short-sleeve lightweight shirts, bathing suit, a wide-brimmed hat, long pants, and a wind breaker or light jacket for evenings. Be sure to bring sunscreen and sunglasses. And lots of film.

Shoes
Most walking ashore is over rocky lava terrain. Therefore tennis shoes, sneakers or walking shoes with rubber soles and good traction must be worn. For beach outings, exclusively, aqua socks, tevas, sandals, are comfortable enough.

Climate
The Galapagos Islands are located on the equator. The tropical heat, however, is tempered by Pacific breezes.

There are two seasons in the islands: the hot season from December to June when humidity is high and average temperatures are in the 80s F (26°-30° C). There may be occasional showers, but the days are generally hot and sunny.

From June to November, you can expect cool winds, occasionally bringing with them a light mist called "garúa." Temperatures average in the 70s F (20°-24° C) during the day and lower at night.

Climate wise, Galapagos lies at a storm-free belt, thus making year-round weather pleasurable. There is no "better" weather to visit Galapagos. The definition of "better" comes attached to our explorers' expectations.

Passports
Guests must travel to the Galapagos with their passports.
Passport numbers must be furnished one month prior to arrival.

Galapagos National Park admission fee
US$100 per person. It must be paid only in cash upon arrival at the airport in Galapagos (rate is subject to change without notice).

Electric current
110/AC. Electric shavers and hair dryers can be accommodated.

Local time
GMT minus 6 hours in the Galapagos Islands. GMT minus 5 hours on mainland Ecuador.

Purchases on board
US dollars or travelers cheques may be used on board. Credit cards (Visa, MasterCard and American Express) are also accepted aboard La Pinta. All accounts are settled at the end of the voyage.

Safety
All safety and fire prevention measures have been implemented on yacht La Pinta. There is a resident physician aboard. Life jackets are mandatory for all "panga" rides (outboard motorized inflatable craft).

Meals
Breakfast, lunch and dinner are included. Wine, beer and soft drinks are extra. Bottled water is supplied in each cabin free of charge.

Booking, payment and cancellations policies
A deposit of US$250 per person is required at time of booking and is non- refundable on cancellation. Full payment is due 60 days prior to departure. Special policies apply for groups.


Itineraries
LA PINTA EASTERN GALAPAGOS ITINERARY
5 day / 4 night
Detailed Itinerary
Thursday
Baltra Airport
Our adventure begins with a morning flight to Baltra Island and immediate transfer to the dock to board Yacht La Pinta. There's a welcome introductory briefing, boat drill, cabin assignment and then lunch. We weigh anchor and start sailing for our first afternoon outing.
South Plaza Island
The turquoise waters of the channel here contrast brilliantly with the white sand and black lava of the shoreline, while a carpet of scarlet sesuvium succulents serves as groundcover for a grove of luminescent green prickly-pear cactus beyond, populated by yellow-grey land iguanas. Along the coastline one finds sea lion colonies, while sea birds play with the thermals that form along the cliffs of this small but spectacular island.
Friday
Santa Fe Island
We take the dinghy over to this idyllic sandy-white beach populated by colonies of sea lions. Galapagos hawks are often easily observed, perched atop salt bushes. The Santa Fe land iguana, unique to just this island, may be spotted during the walk. Following the walk, we can snorkel and swim along a natural wave barrier or ride the glass-bottom boat.
Cerro Colorado Tortoise Habitat.
After lunch, we disembark at Puerto Baquerizo Moreno, the island's capital, and drive 40 minutes to the island's southern shore. At Cerro Colorado, we visit the breeding centre for highly endangered giant tortoises in the midst of a fantastic deciduous forest, home to dozens of bird species, including the San Cristobal mockingbird, and the San Cristobal lava lizard, both island endemics.
Saturday
Punta Pitt (San Cristobal Island)
We land at the eastern tip of San Cristobal Island this morning. The trail that ascends from the beach provides spectacular views of the shoreline; we can observe frigates, plus a colony of bachelor sea lions. After the walk, if conditions are favourable, there is a chance to swim from the beach and snorkel.
Cerro Brujo
In the afternoon following lunch on board, a dinghy ride along the shores of tuff-stone layers takes us to Cerro Brujo's expansive, white coral beach, great for walking, with rewarding bird-watching featuring seabirds and shore birds. Also, look out for Galapagos sea lions. These are the same shores that Charles Darwin walked upon, back in September 1835.
Sunday
Punta Suarez
Our morning outing at Punta Suarez provides an exciting walk on lava/boulder terrain to visit its unique sea bird colonies, including the Galapagos albatross (April – January), boobies, swallow-tail gulls, and the famous "blowhole" lava formation. Also, look for red-green-black marine iguanas. Many regard this site as the best in the Galapagos. Back on board for lunch.
Gardner Bay
In the afternoon, we set down at this beautiful, white coral beach for a short walk to observe the sea lions, mockingbirds, finches, or enjoy the beach. There is great snorkelling in this area, or else there's time to kayak or ride the glass-bottom boat.
Monday
Charles Darwin Research Station (Santa Cruz Island)/ Baltra Airport
Disembarking in the morning, we visit the Charles Darwin Research Station and the captive rearing programme for the giant tortoises. Here we witness the efforts and results of Galapagos fieldwork and study done in the name of science. We transfer via bus across Santa Cruz Island and a short ferry ride to Baltra. Our journey ends at Baltra Island, where we transfer to the airport to take the flight back to the mainland. Baltra's flat substrate (due to its uplifted origin) is the reason why the island was chosen back in the 1940s as the construction site for an airport.
NORTHERN ITINERARY -LA PINTA
Detailed Itinerary
5 day / 4 night
Monday
Baltra Airport
Following our morning arrival at Baltra Airport, we transfer to the Itabaca Channel, taking a small ferry across the channel to the north shore of Santa Cruz Island. We board our bus to the highlands, where we'll learn about Santa Cruz's unique ecosystems and biodiversity. Lunch is served at a local restaurant.
Highlands (Santa Cruz Island)
After lunch, we continue by bus to reach a reserve that is one of the best places in the archipelago to see giant tortoises in their natural habitat. The tortoises are easy to spot, lumbering around, eating grass and leaves and wallowing in the small pools. There are several lava tunnels in the reserve, too. A short bus ride takes us down to Puerto Ayora to board Yacht La Pinta.
Tuesday
Eden Islet (Santa Cruz Island)
After breakfast, a panga ride takes us to Eden Islet, located off the coast of Santa Cruz, where we can observe blue footed boobies diving into the water, reef sharks and frigates. There's a chance to snorkel and, if weather conditions permit, to ride in the glass-bottom boat. The volcanic setting of this area is quite stunning due to its variety of volcanic debris, including cinder cones, tuff cones, and semi-eroded lava flows.
Sombrero Chino Islet
The tiny island of Sombrero Chino gets its name from its appearance, reminiscent of a Chinese hat. This islet, formed only fairly recently, makes a beautiful visit as one explores the wildlife along its 400-metre long trail, which begins at a crescent-shaped white sandy beach. The cove offers excellent swimming and snorkeling opportunities amid white-tipped reef sharks and Galapagos penguins.
Wednesday
Bartolome Island
This morning, a Galapagos icon awaits: Bartolome Island. A great way to start the day, with a steep climb up a wooden staircase: the view from the top is worth the effort! Following the walk, we take to the dinghies for a ride around colossal Pinnacle Rock, followed by time to enjoy the beach and some snorkelling. We can also ride in the glass-bottom boat for great views of the underwater world.
Sullivan Bay (Santiago Island)
After lunch, we board the pangas to land at Sullivan Bay on the east coast of Santiago, a white coral sand beach great for swimming and snorkelling, and with a trail over a lava field that flowed here less than 100 years ago. This is the perfect place to see and feel the volcanic origin of Galapagos while observing its wildlife.
Thursday
Darwin Bay
In the morning, we begin our exploration of this island with an easy stroll to observe marine and land birds. There is an optional walk over sharp lava and uneven terrain for dramatic views, or else we can return to the beach to enjoy swimming and snorkelling at this beautiful natural harbour. The more adventurous can snorkel along the cliffs or paddle sea kayaks.
Prince Philip's Steps (Genovesa Island)
The afternoon starts with a very interesting panga ride along the cliffs before we disembark for a short but steep climb up a wooden staircase. Once at the top, the land is flat, allowing for a captivating walk of about a mile to the other side of this small island, observing large colonies of Nazca boobies, frigate birds and storm petrels and the elusive short eared owl.
Friday
Baltra Island
Our journey ends at Baltra Island, where we transfer to the airport to take the flight back to the mainland. Baltra's flat substrate (due to its uplifted origin) is the reason why the island was chosen back in the 1940s as the location to building an airport.
La Pinta - Western Galapagos Itinerary
7 days / 6 nights
Detailed Itinerary
Friday
Baltra Island
Our adventure begins with a morning flight to Baltra Island and immediate transfer to the dock to board Yacht La Pinta. There's an introductory welcome briefing, boat drill, cabin assignment followed by lunch.
North Seymour Island
Following an afternoon disembarkation, we enjoy a walk along the coast and the interior of this beautiful flat island, observing numerous bird colonies as well as sea lions and land iguanas. There are opportunities for coastal exploration by dinghy. Evening briefing, welcome cocktail and dinner.
Saturday
Punta Vicente Roca (Isabela Island)
Since there is no landing site at this location, the coastal exploration is by panga, while the naturalist guide explains the dramatic geology of the area, with remains of lava flows and tuff stone layers. There is abundant wildlife and, depending on the conditions of the ocean, we'll be able to snorkel along the cliffs, hopefully in the company of green sea turtles.
Punta Espinoza (Fernandina Island)
In the afternoon, we visit the youngest and most pristine island of the archipelago, Fernandina, one of many visitors' all-time favourites. Punta Espinoza has an amazing combination of barrenness and abundant wildlife. Highlights include hawks, penguins, flightless cormorants and astounding views of the surrounding volcanic landscapes.
Sunday
Urbina Bay (Isabela Island)
After breakfast, we disembark at Urbina Bay, on the western side of Isabela Island, the result of an uplifting of the ocean floor. Here you can see corals, shells, and large and very colourful Galapagos land iguanas, as well as (occasionally) giant tortoises. Navigating the Bolívar Channel, there are good chances of spotting several species of whales.
Tagus Cove (Isabela Island)
On the northwest of Isabela, secluded Tagus Cove provided a favourite anchorage for pirates and whalers over the centuries, and today makes a great visitor site. An uphill hike takes us to the back of Darwin Crater, filled with salt water. We can snorkel or ride kayaks amid the dramatic landscape before going on our hike.
Monday
Rabida Island
In the morning, we disembark at Rabida Island's red-coloured beach. A stroll along the beach allows us to observe marine iguanas, mockingbirds, yellow warblers and several species of Darwin's finches. This is a great place to snorkel from the beach. For non-snorkelers, we can ride our glass-bottom boat for an exploration of life underneath the waves.
Cerro Dragon (Dragon Hill) (Santa Cruz Island)
The north shore of Santa Cruz hosts the fascinating landscapes of Cerro Dragon (Dragon Hill). Our walk includes circling a brackish water lagoon frequented by lagoon birds, while further inland, the trail offers a beautiful view of the bay and the western islands of the archipelago, as well as the chance to observe land iguanas.
Tuesday
Puerto Ayora & Charles Darwin Research Station
The morning visit heads to the Charles Darwin Research Station and the giant tortoise pens within an impressive giant prickly-pear cactus forest. These are the Galapagos' headquarters of scientific investigation, conservation and the National Park administration. A delicious lunch is served at the poolside of the Finch Bay Eco Hotel.
Highlands of Santa Cruz Island
After lunch, we head up to the highlands of Santa Cruz Island by vehicle. This is a great place to look for the emblematic Darwin's Finches and the endemic Scalesia trees. The highlands are also great for exploring the exuberant vegetation where giant tortoises roam in the wild. This will surely be one of the most remembered visits of the whole voyage.
Wednesday
Post Office Bay
After breakfast, we land at Post Office Bay to visit the historic barrel that has served as a post office in the archipelago for over two centuries. Panga rides along the maze of channels on Floreana's north shore can also be enjoyed. Views from La Lobería and the Baroness Viewpoint are quite rewarding. There's great kayaking and swimming from the beach as well.
Champion Islet & Punta Cormorant (Floreana Island)
Before disembarking at Punta Cormorant we can snorkel or ride our glass-bottom boat along the coast of an extinct cone called "Champion Islet". Later in the afternoon, our visit to Punta Cormorant takes in an olivine-crystal beach for an easy walk by a brackish water lagoon where bird species like american flamingos may be observed. On the other side of the island, we come to a white-sand beach where sea turtles come out at night to nest.
Thurday
Baltra Island
Our journey ends at Baltra Island, where we transfer to the airport to take the flight back to the mainland. Baltra's flat substrate (due to its uplifted origin) is the reason why the island was chosen back in the 1940s as the location to building an airport.
IMPORTANT NOTES:
The itineraries and programs are subject to change without prior notice, due mainly to adjustments in the policies and regulations of the Galápagos National Park, weather conditions, seasonal changes and safety reasons.
Dry landing: guests step from the dinghy onto rocks or a dock.
Wet landing: as the dinghy edges onto a sandy beach, guests step into knee-deep water and wade ashore
CABIN DECK: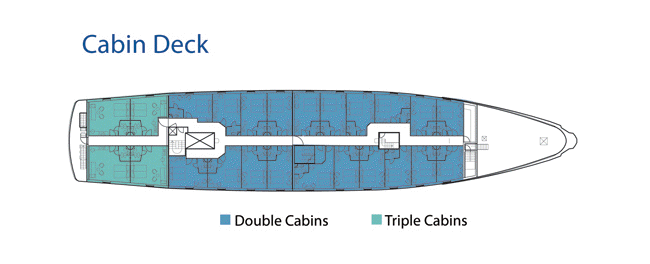 MAIN DECK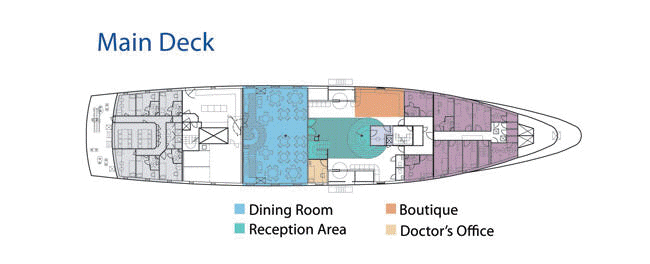 Technical Specification
Owner: ETICA / Metropolitan Touring
Reconstructed and refitted in Callao, Peru in 2007
Type of Vessel: Motor Yacht
Engines: 2 DEUTZ model SBA 8M 1275 HP
Length: 63 meters (207 feet)
Beam: 12 meters (39.37 feet)
Gross Tonnage: 1541
Speed: 12 knots
Electricity: 110-220 Volts 50Hz
Navigation Equipment: Gyrocompass, Automatic Pilot, radar, and GPS
Safety Certificates: (SOLAS, STCW, MARPOL, ISM COD 12)
Fire Detector: Automatic with control from the bridge
Life Jackets: In each cabin
Inflatable life raft 2 x 50 persons and 6 x 50 persons
Landing Craft: 3 Pumar inflatable landing craft + glass bottom boat
Capacity: 48 guests
Cabins: 24 outside cabins, in the same deck with twin or queen-size beds (twin beds pushed together).
Double Cabin size: 16 square meters (175 square feet).
Triple Cabin size: 22 square meters (236 square feet) with sofa bed.
Decks: (Sun deck, Cabin deck, Main deck) Three public decks include an ample bar-salon, dining room, natural history library, sky bar and sundeck.
Wellness: Jacuzzi and exercise room
Crew: 24
Naturalists: 4
Medical Officer: Permanently on board
Other services
Central air conditioning with individual controls in each cabin.
In-room safe deposit box
Telephone with direct international dialing
Closet and luggage storage space
Multi-channel sound system for closed circuit music and connection for personal iPods, MP3, MP4
Briefings and Lectures
Daily lectures and briefings
Conference room with latest A/V equipment
Boutique
Satellite Internet connection (three stations) and wireless in designated areas: Bar Lounge, Natural History Library and Solarium (at additional cost)
Expedition features
Snorkeling equipment: masks, snorkels, flotation vests.
Shortie wet suits (used between June and December)
Glass-bottom boat
Sea Kayaks
Natural history lectures & briefings
Wellness
Exercise room
Jacuzzi, whirlpool & Hydro massage
A Medical Doctor is permanently on board
Infirmary with advanced technology
Notes:
-Only 3 cabin s are available for single use
-Twin / Double Cabins for single use have a surcharge of 50% of the price.
-During Peak Season: Dec 23 to -Jan 06 there will be a surcharge of US$ 150.00 per adult and US$ 130.00 per child . No discounts apply
-Twin / Double Cabins for single use have a surcharge of 100% of the price.
- Children under 12 sharing cabin with parents, 25% off. (Applies only to one child per adult paying full fare)
- Minimum age 6 years old

NOT INCLUDED: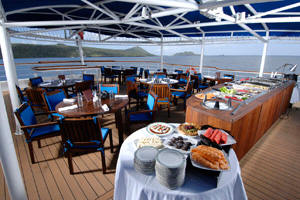 - Wet Suits available for rent, NET rate $ 30 + VAT per guest for 8-day expeditions
- Wet Suits available for rent, NET rate $ 15 + VAT per guest for 4 or 5 days expeditions
- Air transportation to / from Galápagos please see rates below.
- Galápagos National Park entrance fee (US$ 100 subject to change without previous notice).
- Migration Control Card (US $ 10 subject to change without previous notice).
- Alcoholic and non alcoholic beverage, gratuities, gifts and additional items.
- Internet / Wi-Fi
For questions or further information about these programs

Have your Travel Agent call
Tara Tours at
1-800-327-0080 or
e-mail us
tara@taratours.com