Peru - Optional Tours

Moonstone to Sun Temple 8 days trekking, alternative when Inka Trail is full
Exploring the Amazon Rain Forest
8 days La Ceiba, Explorama and Explornapo Lodge
9 days...Hiking and staying in small andean lodges
Manu Wildlife Adventure 5 days...Exploring the magnifecent Manu National Park
Royal Decameron Punta Sal 4 days ...Beautiful beaches and all inclusive resort in the northern part of Peru
Magical Journey from the Andes to the Coast...5 days...Expectacular drive from Cuzco to Lima

ALTERNATIVE PROGRAM WHEN THE INKA TRAIL IS FULL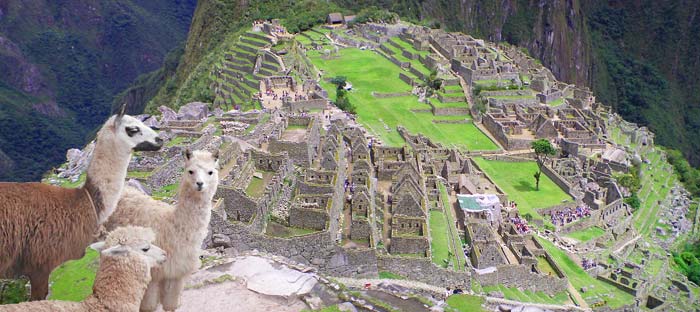 Moonstone to Sun Temple
Explore the spectacular eastern extension of the Inca Trail to Machu Picchu. This little-known route is our favorite alternative to the better-known traditional Inca Trail to Machu Picchu. We follow the footsteps of the Inkas who built a high route from their capital city of Cuzco westward through the rugged cordillera, and filled their empire with amazing temples and royal residences. We camp high, and discover the beauty of tranquil Andean valleys with sublime views toward the 18,000-foot snow peaks of the Urubamba and Huayanay Ranges. We also explore amazing Inka stonework in an enormous 15th century quarry site of Cachiqata. After descending into the Sacred Valley of the Inkas we reach the royal Inka town of Ollantaytambo, with its remarkable Sun Temple. We travel to Machu Picchu by train for a full exploration of the famous city.
During four hiking days you cover 39 km/24 miles, starting at 3,224m/10,575', and finishing at 2,840m/9,315' above sea level. You cross two high passes, with a maximum elevation of 4,625m/15,170'. While trail conditions are generally good, some steep trail sections require careful footing, good hiking boots with lug soles, and trekking poles. Nevertheless, thanks to our careful pacing, dedicated guides and professional support staff, the trip is suitable for novices as well as experienced hikers. Your trail duffel and the camp gear is carried by packhorses; you walk carrying only a day-pack. Cooks prepare wholesome meals from fresh ingredients and handle all the kitchen chores. You sleep warm and protected in high quality tents. Join the most reliable outfitter in the Andes for a trek you'll never forget.


Itinerary
Weekly departures from May to October
8 days / 7 nights
Rated: Moderate

Day 01 THU. U.S.A-LIMA:
Depart USA. Overnight flight to Lima, Peru. (International air not included)
Day 02 FRI. LIMA-CUZCO :
Arrive in Lima and after going thru customs and immigration continue to the domestic flight counters to check-in for flight to Cuzco. Upon arrival you will be met and transfer to hotel Andenes de Saphi. Balance of day to rest and get used to the high altitude. See City of Cuzco-Map
DAY 03 SAT. CUZCO
:
Morning at leisure. At 10AM meeting with the Inca trail outfitter for last minute recommendations -do's and dont's for the next exciting days (meeting is mandatory). Get ready ! (B)
DAY 04 SUN CUZCO INKA TRAIL Quillarumiyoq to Chillipahua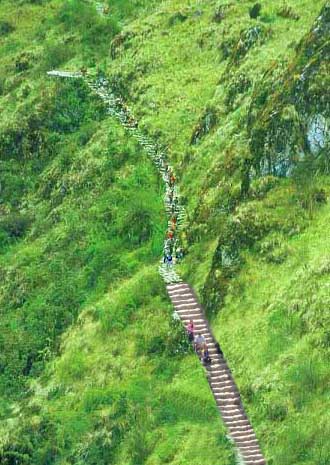 We pick you up at your Cuzco hotel and transfer by van west across the high Anta Plain, following the route of the royal Inca Road which led from the capital toward the northern quarter of the empire. We stop first at Izcuchaca, a bustling market town. We venture into the market building to enjoy the colorful scene.
A few minutes drive beyond Izcuchaca, we reach the sacred Inca shrine known as Quillarumiyoq ("Moonstone" in the Quechua language of the Incas), one of the finest of the carved rock huacas (sacred places) in the vicinity of Cuzco. Archeologists working at this site are revealing extensive terracing of a major ritual center.
We continue to our trailhead by the Huaracondo River where it drains the western edge of the plain, and meet our trail crew, who arrive from a nearby community. We commence trekking following a broad trail northward, above the west bank of the Huaracondo River. After an easy two-hour hike, we reach the first pass and Huatta, a substantial pre-Inca fortress dominating the crest of a ridge at 3,855m/12,645'. Archeological excavations have revealed burials and occupation levels from the Formative Period (2,500 years ago) on through the enormous fortifications of the 4th century Regional Development period. A scattering of lateperiod Inca structures on the top of the highest hill seems like an historical afterthought. The site is classic: a defensible ridge with dominating three-way views along converging valleys. After lunch, we continue on our way westward into the range, and camp at 3,750m/12,300' next to a rural school in the hamlet of Chillipahua. 10.5km/6.5 miles (B,L,D)
DAY 05 MON INKA TRAIL Chancachuco
We climb gradually through fields and glades of the indigenous Chachacomo tree, in a landscape of sparse pastures and small
fields supported by terraced walls on the steep mountainsides. Wherever there is water, we find an Andean family compound of adobe and straw. But there is little water in this mountain range – hour by hour we are reminded of how precious a commodity water was and is to the Andean people. We climb to a small knoll at 4,400 m/14,432' for delicious hot lunch, then continue up to the col. From our location atop Accoccasa Pass (4,625m/15,170' – the highest point on the trek) we enjoy breathtaking views to immense snowpeaks: the Huaynays to our west, the Urubamba range to the north. We enjoy an easy descent, to camp at 4,350 m/14,268' in the broad valley of Chancachuco, facing the glaciers of the Huaynay Range. 8.8 km/5.5 miles (B,L,D)
DAY 06 TUE INKA TRAIL Huayrapunku/Cachiqata Quarry
We trek westward, gradually descending the high valley, to the headworks of a now-abandoned Inca aqueduct which transported,water from the Chancachuco valley north to supply the otherwise arid north-facing slopes above Ollantaytambo. Inca engineers built this aqueduct across a sheer cliff face high above the Silque River.
After we descend through a flower-filled slot canyon in the valley wall, we enjoy views north towards Nevado Veronica (5,682m/18,637') directly across the valley. On the mountainside above us we can glimpse traces of the original stonework, testimony to the extraordinary engineering in the project. We reach our final pass (3,940m/12,923') and visit a spectacular ridge-top Inca shrine called Huayrapunku (Gate of the Wind), with more great panoramas. The site offers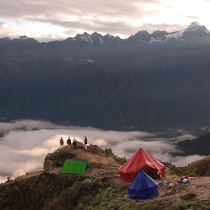 unsurpassed views to the terraces and temple site of the royal town of Ollantaytambo, over 4,000 feet below us. Constructed in the 15th century by the Inca emperor Pachacutec, the town was an important administrative and religious center. We descend, past the curiously arid and abandoned Inca administrative site of Llaqtallaqtayoq, to our camp on a broad terrace at 3,525m/11,562'at the edge of the enormous Cachiqata quarry. In the afternoon we visit a cave to pay our respects by making coca-leaf offerings to mummified human remains considered ancestors by the wranglers and trek crew. We also explore the intricate quarry workings. From this steep talus slope beneath the sheer face of Cerro Yanaorco, immense red granite building stones were carved onsite and then skidded down to the valley floor, across the river, and then up to the sun temple site on the far side of the valley. We explore the ramps and work platforms around the largest of the stones.
Orchids and other flowers are abundant in and around the quarry site, set high on the mountainside above the valley floor. 11.8 km/7.4 miles to camp, plus optional additional walking in the Inca quarry. (B,L,D)
DAY 07 WED INKA TRAIL Ollantaytambo/Machu Picchu
We descend on a broad Inca road down through the lower quarry zone, and stop at a key hilltop, from where the worked stones were skidded down the steep slope to the Vilcanota River below us. On the far bank, between the river and the Sun Temple, we can see several of these piedras cansadas ("Tired Stones"), which were abandoned half-way between quarry and temple construction zone. Chroniclers tell us that work on the temple site was suddenly halted when the Colla masons fled back toward their Moonstone to Sun Temple homes in the Lake Tiahuanaco area, just prior to the arrival of the Spanish invaders. We continue down to the village by the river,and visit a local chicheria, where you may sample chicha, the delicious lightly-fermented corn beverage which is an integral part of every Andean festival and social gathering. After crossing the
river, we walk into the village of Ollantaytambo. We have time to explore the temple and the adjacent village, and enjoy lunch at the home of a local family. In late afternoon we catch a train down the valley to Aguas Calientes. We check into a hotel for the night. 8 km./5 miles. (B,L)
DAY 08 THU Machu Picchu
We enter the famous "Lost City of the Incas" early in the morning for an in-depth guided tour of the ridge-top citadel of Machu Picchu. Those who wish to witness sunrise over Machu Picchu go up on the early shuttle bus and enter the site at daybreak. You have time for a thorough exploration of the remarkable site. We descend to Aguas Calientes for return to Ollantaytambo, continuing by chartered bus to Cuzco, arriving around 10.00PM with transfer to Hotel Andenes de Saphi (B)

DAY 09 FRI.CUZCO-LIMA-USA:
Transfer to the airport for flight to Lima for connection with flights to USA. (B)
EXTENSION TO LIMA, THE AMAZON, NAZCA, PUNO AVAILABLE UPON REQUEST
TOUR PACKAGE INCLUDES:
• 5 day/3 nights + 1 night in Aguas Calientes on the Inka trail with Camping equipment, cooking gear, guide, porterage of up to 12 kg (25 pounds), porters, thermal sleeping pad, water filters and meals marked as B=breakfast, L=lunch and D=dinner daily. • Hotel accommodations for 3 nights in Cuzco including room taxes, service charges and breakfast daily. (Hotels as mentioned in itinerary). • Meals as noted B= breakfast; L=lunch; D=dinner.• Transfers to/from airport and train station. •Tours as mentioned in itinerary. • English speaking tour guide. • Tips to airport and hotel porters. • Round trip local airfare Lima-Cuzco-Lima.


NOT INCLUDED:
• International airfare • Insurance • Tips to tour guide or bus driver • Any other service not mentioned in itinerary. • BTG multi-site entrance ticket - most of our passengers purchase this ticket in Cuzco prior to commencing the trek, as it contains site entrances to many of the most popular sites in Cuzco and the Sacred Valley. The full ticket costs US$50 (as of Jan 1, 2012); separate site entrance to just the Ollantaytambo ruins are also available. Passengers who purchase the BTG ticket prior to the trek must bring this along on the trek in order to avoid having to purchase a separate entrance to the Ollantaytambo ruins. Site entrance costs are subject to change.• USA departure tax • Lima and Cuzco $5.00 each and upon leaving Peru $30.00. • Personal equipment such as backpacks and sleeping bags. • Tips to guide and trek staff. • Insurance

Other Exclusions: personal trekking gear and sleeping bag, tips to guide and trek staff.

*Rates per person -share double (includes local airfare Lima-Cuzco-Lima)
| | |
| --- | --- |
| | 2018 |
| Using hotel Dorado International (4 stars) | 2,424 |
International airfare is not included.
(available upon request)
Single Supp. is $331.00 (Single occupancy for this program is very limited). FOR TRIPLE deduct $34 per person. - RATES SUBJECT TO CHANGE AT ANY TIME.
SAMPLE INTERNATIONAL AIRFARES:
From Miami $550-750, Atlanta $600-800, Los Angeles & San Francisco $700-900; New York $700-950; Seattle $800-990....Call your travel agent or Tara Tours at 1-800-327-0080.
DEPOSITS:
US$500.00 at the time of booking.
FINAL PAYMENT:
60 days before departure.
CANCELLATIONS:
Prior to departure: -at any time- $200 it is not refundable.... ;45 to 30 days US$350.00 penalty pp; 29 to 15 days 50% of total cost; 14 or less no refunds.
INSURANCE: Tara Tours Inc. strongly recommends that you purchased travel insurance. Insure America has designed a policy for Tara Tours clients. Cost for this program is US$93.00 to 125.00. Have your Travel Agent call Tara Tours Inc. for further information.

WEATHER.
The Andean weather can be unpredictable, despite the sharp divide between dry and wet seasons. The dry season runs from May to October or November; the rainy season goes from December through April. Nevertheless, in the mountainous Cordillera Urubamba, showers can occur at any time of year. Therefore, even in the "dry" season, your day pack should always include full rain gear.

Day time temperatures can vary greatly, with daytime highs ranging from 10ºC/50ºF to 25ºC/75ºF and night time lows ranging from 10ºC/50ºF to a cold 0ºC/32ºF, though seldom much lower. Bring a swimsuit for bathing in the hot springs in Aguas Calientes.
Exploring the Amazon Rain Forest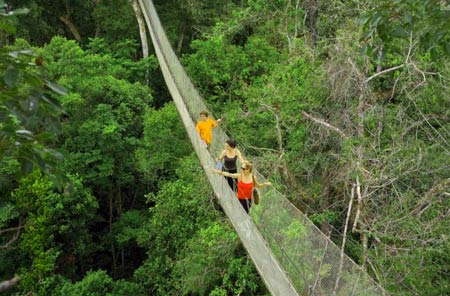 8 day / 7 night Program
DAY 01 MIAMI-LIMA
Arrive and overnight at hotel Costa Sol by Lima airport.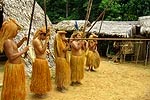 DAY 02 LIMA-IQUITOS-AMAZON RAIN FOREST –
Depart Lima for Iquitos. Flight takes about one hour and thirty minutes.
Reception at the airport and transfer to the Explorama dock. Fifty mile journey down the Amazon River to Yanamono Stream where Explorama Lodge is located. Afternoon hike along the "Lake Trail" through lowland rainforest which is seasonally flooded. This trail is traversed by open boat during high water months!
Lunch, Dinner Overnight Explorama Lodge
DAY 03 AMAZON RAIN FOREST Explorama Lodge
Morning hike along the "Bushmaster Trail" where scientific studies by the Missouri Botanical Gardens have found one of the world's highest biodiversity of trees per square hectare. Your guide will point out many examples of native plants used as remedies by local people. Afternoon canoe trip along the Amazon in search of either of the two species of freshwater dolphin found in the river.
Breakfast, Lunch, Dinner Overnight Explorama Lodge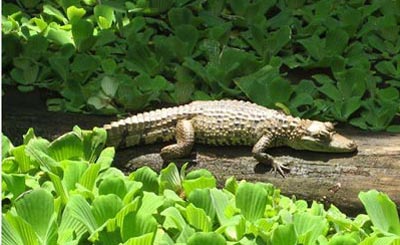 DAY 04 AMAZON RAIN FOREST Explornapo Lodge
Explorama Lodge - ExplorNapo Lodge
After breakfast, a boat ride down the Amazon and up the Napo River to the ExplorNapo Reserve and ExplorNapo Lodge. Afternoon hike through primary, terra firme rainforest. Evening excursion by open boat along the Sucusari Stream in search of caiman and to enjoy the night sounds and stars of the Southern sky.
Breakfast, Lunch, Dinner Overnight ExplorNapo Lodge
DAY 05 AMAZON RAIN FOREST ExplorNapo Lodge-Canopy Walkway
Morning hike to the Canopy Walkway, a suspended bridge spanning 500 meters (one-third of a mile), connected by tree platforms and reaching a height of over 35 meters (115 feet) above the forest floor. Here there is time to observe a part of the rainforest rarely seen by man but accessible without any type of climbing skill or equipment. Afternoon excursion to a black water oxbow lake formed when water from the Napo River became separated from the main flow of the river. These lakes are often covered with giant Victoria Regia water lilies and can offer a view of the elusive Hoatzin bird.
Breakfast, Lunch, Dinner Overnight ExplorNapo Lodge
DAY 06 AMAZON RAIN FOREST ExplorNapo Lodge - Ceiba Tops
M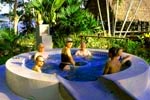 orning boating excursion along one of the Napo tributaries spotting for sloth, birding and fishing for piranha. Also a chance to visit some of the local river people called "ribereños" whose houses are seen along the river. Afternoon boat trip back to Ceiba Tops where private rooms with electricity and air conditioning begin your return to "civilization". On the return trip you will pass the town of Francisco de Orellana, where a statue is erected to the intrepid explorer who in 1542 at the mouth of the Napo River became the first European to see the Amazon River.
Breakfast, Lunch, Dinner Overnight Ceiba Tops
DAY 07 AMAZON RAIN FOREST Ceiba Tops
Morning visit to the neighboring Yagua Indian Community, an explanation of their native culture, blow gun demonstration and a chance to purchase or trade for their crafts. Afternoon hike in the beautiful primary rainforest reserve surrounding Ceiba Tops where many huge trees are festooned in epiphytes.
Breakfast, Lunch, Dinner Overnight Ceiba Tops
DAY 08 AMAZON-IQUITOS-USA
Your choice of open boat ride or hike for the morning or a chance to relax in a hammock and enjoy the sounds of the surrounding rainforest. Transfer to Iquitos by boat and bus to the airport for your departure to Lima.
Arrive in Lima and connect with your flight back to USA or continue to Cuzco and Machu Picchu.
Breakfast
2018 LAND TOUR COST PER PERSON: Double US$2,194 ; Triple US$2,095
INCLUDING:
6 nights jungle lodge accommodations with all meals, excursions, visit to Indian tribes and English speaking naturalist guides; 1 night in Lima at hotel Costa Sol by Lima airport. All transfers by car & by boat from/to Iquitos; room taxes and service charges. Assistance of our local representatives 24/7 by phone.
NOT INCLUDED:
INTERNATIONAL AIRFARE
or Local airfare to Iquitos
. Insurance.• Tips to tour guide or bus driver. •Any other service not mentioned in itinerary. • Airport departure taxes (Lima and Iquitos $5.00 each) and upon leaving Peru $28.00

The Salcantay Trek to Machu Picchu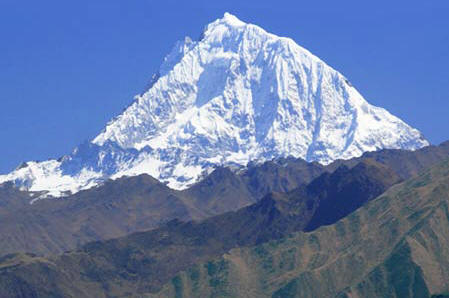 Mountain Lodges of Peru offers "Adventure at its finest": the opportunity to experience the essence of adventure within the realm of creature comforts. … it is a unique opportunity to experience ancient history in the Land of the Incas, contemporary manifestations of deep-founded culture, the most interesting and exotic variety of flora and fauna, culinary surprises, the determination of local people to progress

In MLP's Machu Picchu Lodge-Lodge experience, trekkers spend one night each at three Trekker's Lodges located at strategic points along the route: Huayraccmachay, Collpapampa and Lucmabamba. Although MLP's Trekker's Lodge are smaller in size (only 6 guest rooms per lodge), each one of them offers the same amenities as the base lodge.

ITINERARY
9 days/8 nights
DAY 1 – ARRIVE AND EVENING BRIEFING IN CUSCO
Meet & greet with other guests where you receive important information for a great trekking experience.
Overnight hotel EL RETABLO


DAY 2 – CUSCO TO SALKANTAY LODGE

Visit Inca ruins and the mountain village of Mollepata before embarking on your first trek on the Camino Real. Your destination: the welcoming Salkantay Lodge, named for the majestic peak at the head of the valley, where you'll find jacuzzis, aperitifs, and a crackling fire in the fireplace.

Overnight: Salkantay Lodge (3,869 m/12,690 ft)
Trekking Time: Approximately 6 hours (including picnic lunch en route)
Hiking Level: Moderate


DAY 3 – HIKE TO LAKE HUMANTAY

Whet your appetite for trekking and scenery with an acclimatization hike from the lodge to glacier-fed Lake Humantay with views of Mt. Salkantay, a sacred mountain in Incan mythology.

Overnight: Salkantay Lodge (3,869 m/12,690 ft)
Trekking Time: Approximately 4 hours
Hiking Level: Moderate to Challenging
Optional Activities: Horseback Riding (at additional cost).


DAY 4 – CROSSING THE SALKANTAY PASS

Today's the big day—we reach the trek's highest point on the Salkantay Pass (4,638 m/15,213 ft). Take in views of snowcapped peaks of the Vilcabamba Range in every direction and the glaciated south face of Mt. Salkantay towering above.

Overnight: Wayra Lodge (3,906 m/12,812 ft)
Trekking Time: 6–8 hours (including lunch)
Hiking Level: Challenging, crossing a 4,640m/15,200 ft mountain pass


DAY 5 – DESCENDING INTO THE CLOUD FOREST

We begin our descent along the Salkantay River, where warm air starts rising from the jungle, accompanied by colorful butterflies and striking orchids. At Colpa Lodge, we'll be greeted with a Pachamanca, a traditional Peruvian meal.

Overnight: Colpa Lodge (2,870 m/9,414 ft)
Trekking Time: 3–4 hours
Hiking Level: Easy to Moderate
Optional Activity: Afternoon bike from Manchaywaycco to collpapampa. After Lunch /Duration: 3hrs approximately/ Level: easy. This activity has an additional cost.


DAY 6 – FOLLOWING THE SANTA TERESA RIVER VALLEY

Today we hike through more populated rural areas, passing through banana, granadilla and avocado orchards. We'll picnic by the river, and later tour a coffee plantation before arriving at Lucma Lodge, which is surrounded by its own avocado trees.

Overnight: Lucma Lodge (2,135 m/7,003 ft)
Trekking Time: 5–6 hours (including lunch)
Hiking Level: Moderate to Challenging (because of distance, not terrain)
Optional Activities:
Zip Line in Santa Teresa: This is a full day activity which replaces the trek. Operated by Cola de Mono. It has an additional cost.
Biking:
Option a) Yanama pass – Hornopampa – Lluskamayo. Duration: 5 hrs. approximately. Level: Easy to moderate. It has an additional cost.
Option b) Descent from Hornopampa to Lluskamayo. Duration: 3.5 hrs. approximately. Level: Easy. It has an additional cost.


DAY 7 – FIRST VIEWS OF MACHU PICCHU FROM LLACTAPATA PASS

On our last trekking day, we hike along the Llactapata Pass and come upon a distant but spectacular view of Machu Picchu Sanctuary from the southeast, a view few travelers ever get a chance to admire. Then we'll make our way to the train bound for our ultimate destination: Machu Picchu.

Overnight: Aguas Calientes (1,900 m/6,232 ft)
Trekking Time: 4–6 hours
Hiking Level: Moderate to Challenging


DAY 8 – VISIT MACHU PICCHU SANCTUARY

We will take an introductory two-hour guided tour of the ruins, after which we have the rest of the morning to explore the site on our own or hike the steep Huayna Picchu for expansive views.
Return to Cusco (3,360 m/11,021 ft). Overnight HOTEL EL RETABLO
(Huayna Picchu Mountain tickets are subject to availability*)

DAY 9 CUZCO-LIMA-USA
Transfer to airport. (B)
| | |
| --- | --- |
| *Rates per person -share double (includes local airfare LIMA-CUZCO-LIMA) | Double |
| Mar.1-31, 2018 | US$4,750 |
International airfare is not included.
(available upon request). Jan & Feb Mountain Lodges are closed.
Single : Pays 50% supplement - RATES SUBJECT TO CHANGE AT ANY TIME.
SAMPLE INTERNATIONAL AIRFARES:

From Miami $600-900, Atlanta $700-990, Los Angeles & San Francisco $900-1200; New York $800-1100; Seattle $900-1200....Call your travel agent or Tara Tours at 1-800-327-0080. Just remember -no airfare is good- until ticketed....these are only sample air fares.
DEPOSITS
:
US$600.00 at the time of booking.
FINAL PAYMENT
:
60 days before departure.
Manu National Park - Manu Wildlife Center
Cusco – Puerto Maldonado – Cusco by commercial airplane

5 day/4 night itinerary
Departs every Thursday

This itinerary offers the complete lowland rainforest experience, taking us by air and then motorized canoe to Manu Wildlife Center, This lodge is located east of the Manu River on the north bank of the Madre de Dios River and offers the Amazon's finest, in-depth wildlife safari. The lodge is famous for its abundant and varied wildlife, with its own Tapir clay lick, a nearby macaw and parrot clay lick, two nearby oxbow lakes and two tall canopy viewing towers among its impressive highlights. The Lodge contains 22 double-occupancy fully screened private bungalows with hot showers, a large fully screened dining room, and a bar with hammocks for relaxing with the comfort of the our Amazon's finest wildlife lodge, next day in our rustic, Manu Wildlife Tented Camp in the heart of the Manu Biosphere Reserve. In Manu we navigate the waters of an isolated oxbow lake, home to Giant Otters, caimans, monkeys and an endless variety of birds. Our trip ends downriver with the Amazon's finest wildlife viewing opportunities, at Manu Wildlife Center. This lodge offers the finest Tapir viewing in the entire Amazon, as Tapirs are nightly visitors to the lodge's mud wallow. After a canoe and van journey we return to Cusco aboard in a commercial flight.

Itinerary
Day 1: Puerto Maldonado-Colorado -Manu Wildlife Center.
We'll pick you up about 6:00 to 6:30 a.m. from your hotel in Puerto Maldonado followed with a transfer service by van to Santa Rosa Village, we will get there in about two-hours and a half journey, you will cross the Inambari river for a 15 minutes boat trip to Puerto Carlos, here you will start your overland journey to Boca Colorado for 45 minutes by car, followed by four hours and a half motorized boat journey ride upstream the Madre de Dios river. We arrive to Manu Wildlife Center for lunch.
Later we make our first acquaintance with the rainforest, exploring some of the 30 miles of forest trails that surround the lodge. We have an excellent chance of encountering some of the 12 species of monkeys, including the Spider Monkey and Emperor Tamarin, which inhabit the surrounding forest.
After dinner there will be an enchanting night walk along the trails, in search of the nocturnal birds and animals of the rainforest (L, D)

Day 2: Manu Wildlife Center to Manu National Park (Manu Wildlife Tented Camp)
An early start (inevitable on wildlife expeditions), a delicious breakfast is followed by boat journey in the motorized canoe trip up the Madre de Dios River. We make a short visit to the village of Boca Manu, riverside capital of the remote and sparsely populated Peruvian province of Fitzcarrald. The main activity here is building dugout boats for travelers on the river. Logging is prohibited here, so the resourceful villagers work entirely with lumber brought downriver by floodwaters.
Now we turn northward up the chocolate-brown waters of the Manu River into the lake-rich lower Manu National Park. The pristine quality of the forest is instantly apparent, with abundant birdlife and no signs of outside development. We check into the park at Limonal ranger station and then proceed upstream, as our boat driver steers skillfully through shallows and driftwood snags. Orinoco Geese and Horned Screamers strut on the beaches, Capped and White-necked Herons patrol the shoreline, and countless sunbathing turtles dive off their log perches as we approach.

After some six hours on the river we reach the Manu Tented Camp, a simple but comfortable low-impact lodge nestled almost invisibly in the forest.
If time permits us, we will take a short walk before dinner to stretch our legs and enjoy our first encounter with virgin rainforest. (B,Box Lunch,D).

Day 3: Manu National Park (Manu Wildlife Tented Camp): Cocha Salvador & Cocha Otorongo.
Today we visit two lakes near our camp. Park authorities determine the time of our visit to Cocha (Lake) Salvador; depending on this schedule, we will visit Cocha Otorongo earlier or later in the day.

Our trail to Cocha Otorongo begins some 30 minutes downstream from the camp. This brief river journey to the trailhead can always offer the chance of a thrilling wildlife sighting. Perhaps we will spot a family of capybaras, the world's largest rodent, looking like giant Guinea Pigs as they browse on the riverbank, or if we are very lucky, a solitary jaguar might stalk slowly off an open beach into the forest, flicking its tail in annoyance at our intrusion.

On the short trail to the lake we may spy one or more of the park's 13 monkeys species leaping through the canopy high above. And some of the trees, which form that canopy -- such as kapok, ironwood and figs, will astound us with the vast size of their trunks and buttressed root systems.

These are oxbow lakes, formed when the river changed course, leaving a landlocked channel behind. The lakes are abundant in fish and wildlife, and provide optimum habitat for caimans and the Giant Otter (Pteronura brasiliensis), one of the Amazon's most endangered mammal species. This lake enjoys maximum protection, and boats are not allowed. However, it features a dock platforms and a 50ft tower from which to scan the trees and marshy shoreline for monkeys, kingfishers, Anhinga (a large, long-necked water bird), and countless other species. We have a good chance of sighting the resident Giant Otter family as they dive for the 4Kg. of fish that each individual consumes daily.

Cocha Salvador is the largest of the area's lakes, at 3.5 Km, or some two miles long. It is also home to a family of Giant Otters. We cruise the lake on a floating catamaran platform, which offers superb new perspectives of lake and forest. The lakeside trees are often alive with monkeys; Scarlet, Chestnut-fronted and Blue-and-gold macaws beat a path overhead; a variety of herons and egrets scout the water's edge; and the reptilian eyes and snouts of caimans, motionless as logs, may be spied beneath the branches. Somewhere on the open water or in among toppled bankside trees, we may spot the sleek heads of the shy Giant Otters. These social animals play and fish together, and we may see them sprawled on a fallen tree trunk, dozing or gnawing on a fish. (B,L,D)

Day 4: Manu National Park (Manu Wildlife Tented Camp) to Manu Wildlife Center – Macaw Clay Lick Project and Tapir Clay lick.
We set off downriver at dawn. At this hour chances of wildlife encounters are excellent. We return to the Limonal park station, to file our wildlife report before leaving the park. After reaching the turbulent union of the Alto Madre de Dios and Manu rivers we will be near the village of Boca Manu. After ninety more minutes downstream we arrive at Manu Wildlife Center -- the exciting final stop of our journey -- in time for lunch.
After a delicious lunch we walk through the forest for some minutes, where we find the Macaw Lick project. The hide provided with individual chairs and a convenient place for cameras and binoculars to a distance of 15 meters. In groups of two and three the scarlet Macaws come flapping in, landing in the treetops as they eye the main stage below.
Later, we continue to explore and discover the rainforest, its lore and plant life, on the network of trails surrounding the lodge, arriving in the late afternoon at our 34m/112ft Canopy Tower. On its platform we witness the frantic rush-hour activity of twilight in the rainforest canopy, before night closes in. Then we set off along the "collpa trail", which will take us to the lodge's famous Tapir Clay lick. Here at the most active tapir lick known in the entire Amazon, our research has identified from 8-12 individual 600-pound Tapirs who come to this lick to eat clay from under the tree roots around the edge. This unlikely snack absorbs and neutralizes toxins in the vegetarian diet of the Tapir, the largest land animal of Latin America. The lick features a roomy, elevated observation platform 5m/17ft above the forest floor. The platform is equipped with freshly-made-up mattresses with pillows. Each mattress is covered by a roomy mosquito net. The 10-m-long, elevated walkway to the platform is covered with sound-absorbing padding to prevent our footsteps from making noise. This Tapir Experience is unique and exciting because these normally very shy creatures are visible up close, and flash photography is not just permitted, but encouraged. The hard part for modern city dwellers is to remain still and silent anywhere from 30 minutes to two or more hours. Many prefer to nap until the first Tapir arrives, at which point your guide gently awakens you to watch the Tapir 10-20m/33-66ft) away below the platform. Most people feel that the wait is well worth it in order to have such a high probability of observing the rare and elusive Tapir in its rainforest home. (B/L/D)

Day 5: Manu Wildlife Center to Puerto Maldonado – Departure day.
We leave our lodge very early on the two hour and a half return boat trip downstream to the Colorado Village. Depending upon the time we must be in Puerto Maldonado, the breakfast will be served at the lodge or on the boat while you enjoying early morning wildlife activity as we go, of course this is a perfect time to take advantage of valuable early morning wildlife activity along the river, in additions this journey allows us to see several lowland native settlements and gold miners digging and panning gold along the banks of the Madre de Dios River. We will stop in the far-west type gold-mining town of Colorado to start our overland journey to Puerto Carlos for 45 minutes, then you will cross the Inambari River for 15 minutes boat trip to Santa Rosa, finally a van or bus will drive us in approximately two-hours and a half to the airport in Puerto Maldonado City, with this assistance your jungle adventure ends... (B)

LAND TOUR COST PER PERSON (in double occ) US$2455

Important notes:
• Please note that you should stay overnight the night before in Puerto Maldonado in order to start your trip from 6:00 to 6:30 a.m. (cost about $60-70 per person with local transfers)
• The program may vary slightly so as to maximize your wildlife sightings, depending on the reports of our researchers and experienced naturalist guides based at the lodge.
• We strongly recommend to buy Travel Insurance
DOES NOT INCLUDE: Local airfares, Insurance, Tips to tour guides or drivers and any other service not especifically mentioned in this itinerary.
YELLOW fever shot recomended.

Hotel Royal Decameron Punta Sal
The Royal Decameron Punta Sal offers you a great variety of facilities and services,
together with a beautiful sandy beach, fun sports and a great entertainment and activities program.
ALL INCLUSIVE BEACH RESORT 4 days-3 nights
Daily Departures
| | | | |
| --- | --- | --- | --- |
| 2018 | Double or Triple | Single | Children |
| Jan.04-Feb.29, 2018 | US$529 | 790 | 295 |
| Mar.01-Dec.25, 2018 | 484 | 772 | 268 |
| Dec.26, 2017 to Jan.03, 2019 | 745 | 1096 | 358 |
Extra nights available upon request.
AIRFARE IS NOT INCLUDED.
CHILDREN: 3 to 11 years old sharing room with 2 adults
INCLUDING:
3 nights at
Hotel Royal Decameron Punta Sal
; Transfers on arrival & departure (the hotel is 1 hour 15 minutes from the Tumbes airport); all meals at any of the 5 restaurants (breakfast & lunch are buffet style and a la carte dinners); unlimited domestic and international alcoholic and non-alcoholic beverages; daily activities program; non motorized water sports (wind glider, kayaks, snorkeling and sailboats); beach towels, chairs; tennis courts, volleys; nightly entertainment; unlimited drinks at the discotheque; taxes & tips included.
NOT INCLUDED:
Insurance, airport departure taxes and any other service not specifically mentioned here,
SAMPLE AIRFARE: From Lima to Tumbes (Talara) US$250-350
OPTIONAL TOURS AVAILABLE
: Observe Whales (Aug.-Oct), fishing, zip lining, tour to Zorritos mangroves and more...
1,167 KMS / 726 MILES with Private guide & car

From Cusco to Lima on the Interoceanic highway. Cusco: 11,000 ft – 3,400 m to Lima : sea level
Experience in 5 days with our Top professional tour guide ; almost all the world`s habitats with incredible geological formations and astonishing views. Besides the warmth of the local people and the incredible Peruvian cuisine.
5 day/4 night Expedition

Day 1 CUSCO-CHALLWANKA (205 miles- 328 kms Max altitude 12,500 ft – 3,900 m Driving 7 h - Several stops)
CUSCO-ABANCAY 191 KMS (118MILES)

ABANCAY-CHALLWANKA 127 KMS /79 MILES)
Depart hotel, with a private tour guide, at mid-morning by private vehicle to start this unforgettable 5 day journey from the Andes to the Pacific on the brand new Interoceanic Highway. First, we visit the Zurite archeological complex, which boasts the largest group of terraced hills fashioned by the Incas as well as an exceptional view of Condorwachana Sacred hill and great views of Anta Pampa. Then, we will stop at Killarumiyoc (Temple of the Moon) and walk around its incredible buildings. The view of Mount Salkantay (apu or guardian spirit), with its green valleys and mighty rivers, is simply spectacular. The road passes through the town of Limatambo, but we continue on to Tarawasi, with an Incan temple and stones shaped like flowers. The road now follows the Apurimac River, and at one point we will exit the bus and hike for an hour in order to appreciate to their fullest the Andes, its rivers, rocky canyons, and surrounding countryside, and of course take the best pictures. We will observe the change in vegetation, from orchids and cantutas (Peru's national flower) to passionflowers, native trees, etc., while crossing into different habitats. We eat picnic lunch with great andean landscape and continue travelling along the Pachachaka river until arriving at Challwanka, where will stay the night at the brand new Tampumayo Lodge.

Overnight: Tampumayo Hotel ( L, D)

Day 2 CHALLWANKA-NAZCA 213 miles- 340 kms Max altitude 13,566 ft – 4,200 m Driving 8 h - Several stops

After breakfast, we take a brief stop at the Challwanka Market. Later, we visit Caraybamba, an impressive archeological site with terraced slopes that rise for several kilometers from the banks of the Caraybamba River to the top of the mountains. There is no other place like this on the Earth, and you will be one of the first to see it. Yet, very soon, it will become a major tourist attraction. We journey through charming Andean towns and see the locals dressed in their colorful, traditional outfits. We will go up and down winding road, see llamas and alpacas, and pass through the town of Chulucanas until reaching the impressive natural giant rocky formations in Puquio. Our picnic lunch will be eaten on our way, and in the afternoon we will stop at the Pampas Galeras Natural Reserve, with the largest population of vicuñas in the world. This animal possesses the finest wool in the world, and we will have the opportunity to get real close to them and take pictures. It is also possible to watch condors soaring in the sky, and most likely we will see eagles, falcons, Andean geese, small birds, and other anim
als like vizcachas. We continue our descent through towering mountains that flaunt all different colors and by bluish green lakes. At this point, the landscape changes dramatically from mountains to sand dunes crowned with gigantic cacti. Something impossible to forget.
Few places on earth where you can experience a twilight from the Andes down to the Coast.We finally reach the arid coastal plains and the Cantayoc Aqueducts as well as Las Agujas (first site of an observable Nazca Line). After that, it is on to our hotel and dinner at the best restaurant in the city of Nazca.
Overnight: Majoro (B, L, D)


Day 3 NAZCA-PARACAS 136 miles- 219 kms Max altitude 1,970 ft – 610 m Driving 3 h – Several stops
After breakfast, we go directly to the Nazca Airfield for a 45-minute flight over the Nazca Lines and Palpa Lines where the oldest Chakana (Andean Southern Cross) can be seen only from the air.
Then, it is off to the city of Ica for lunch at a fine restaurant. In the afternoon, we visit a small museum exhibiting Nazca and Paracas artifacts. Also, we will stop by the Huacachina Oasis and marvel at its picture
perfect dunes. Our next stop is a winery where they produce excellent wines and high quality pisco brandies. And last but not least, we end our eventful day at the Paracas Bay and check in to our hotel.
Overnight: Hotel Paracas Luxury Collection (B,L,D)


Day 4 PARACAS
The morning is set aside for a boat ride to the famous Ballestas Islands to see the incredible marine wildlife inhabiting them: Humbold penguins, guanay cormorants, pelicans, sea lions, dolphins, whales, flying fish, etc.
The Paracas Bay is said to have the greatest concentration of birds in the world due to the influence of the cold Humboldt Current.
Rest of the day free to enjoy this luxury property at Paracas Bay
Overnight: Hotel Paracas Luxury Collection (B,L,D)

Day 5 PARACAS-BALLESTAS-LIMA 153 miles- 245 kms Max altitude : sea level Driving 4 h – Several Stops
This morning we visit the Paracas National Reserve, staying within the confines of the desert coast and viewing the majestic Pacific Ocean and its islands, teeming with birds, from natural observatories.
After lunch at the hotel back onboard our private vehicle , we head northbound on the Pan American Highway for about 4 hours and arrive Lima late afternoon. END OF MAGICAL JOURNEY
(B,L,)
2018 LAND TOUR COST PER PERSON:
DBL US$7,990 (Based on 2 people travelling together)
DBL US$7,630 (Based on 3-4 people travelling together)
DBL US$4,750 (Based on 5 to 9 people travelling together)
For questions or further information on Peru or about these programs

Have your Travel Agent call
Tara Tours at
1-800-327-0080 or
e-mail us
tara@taratours.com